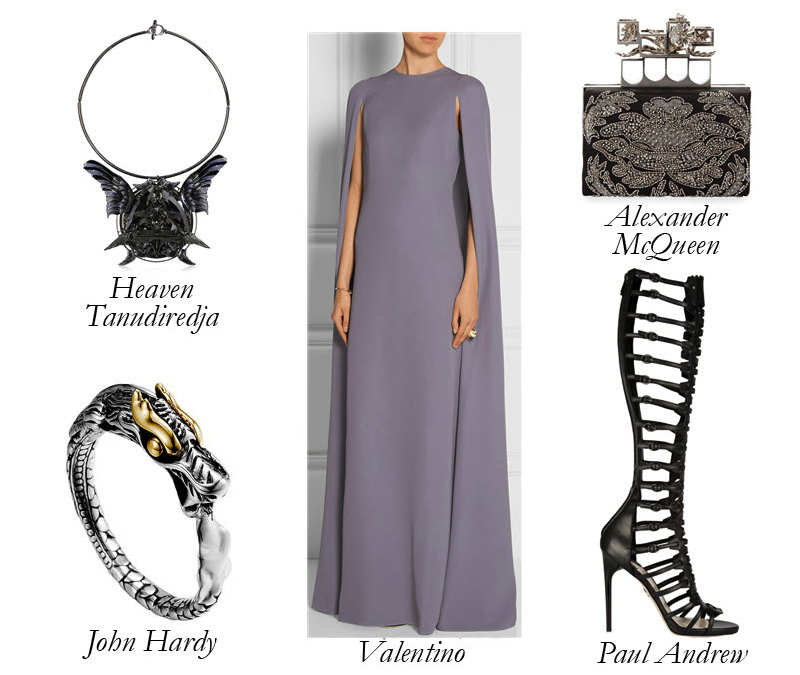 Mourning the finale of Game of Thrones? To celebrate the season that finally gave us hope that Khaleesi would come into full power (no spoilers here, as I haven't read the books; just my wishful thinking on my part along with everyone else's!), here is an outfit that is befitting of Daenerys Stormborn of the House Targaryen; the First of Her Name; the Unburnt; Queen of Meereen; Queen of the Andals, the Rhoynar and the First Men; Khaleesi of the Great Grass Sea; Breaker of Chains; and Mother of Dragons….who also happens to be the most fabulously styled character on the show!
Heaven Tanudiredja Round Wings Medallion: She breaks chains, but isn't afraid to wear them herself, especially when they're constructed from symbolic wings. On Luisa via Roma for $2,664.
Alexander McQueen Embellished Satin Box Clutch Bag:
A McQueen for a queen! When it comes to bags, there's nothing more appropriate for a strong leader than a knuckleduster. At Neiman Marcus for $4,195.
Valentino Silk-Cady Cape Gown:
This regal cape gown is almost identical to the dress Daenerys has been wearing this season. On NET-A-PORTER for $6,990.
John Hardy Slim Dragon Ring:
Just something discreet! She doesn't need to overdo it with dragon paraphernalia since, you know, she has giant dragons that loom overhead to serve as constant reminders. At Neiman Marcus for $350.
Paul Andrew Athena Leather Sandals:
 The Mother of Dragons never wears heels, but I'm going to imagine her in the most kick-ass, lace-up stilettos that ever walked the earth, appropriately named the Athena (one must assume in honor of the warrior princess). On NET-A-PORTER for $1,995.