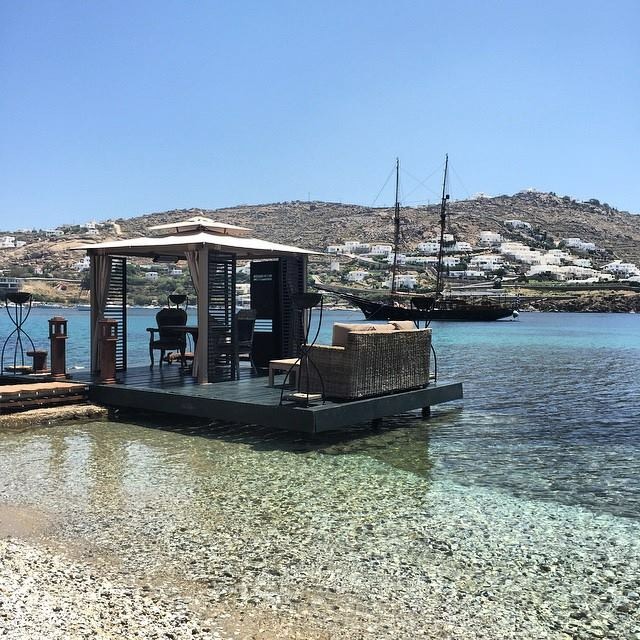 Right up there with Capri, St. Tropez, and Biarritz is Mykonos. It's one of the world's most awe-inspiring vacation destinations and now, with the euro at a low and Greece in financial turmoil, there couldn't be a more perfect time to visit the beautiful Greek island. Do note, however, that especially during the high summer season, prices aren't cheap. This is a luxury destination in every sense of the word (head to Santorini or Athens if you're looking for a bargain). That said, unlike Capri and St. Tropez, Mykonos, because it's bigger, it does have some frugal options in the mix. If you can afford it, though, it's worth splurging on luxury accommodations and dining. It truly is a one-of-a-kind, breathtakingly beautiful place and it's perfect for anyone from gay revelers to honeymooners. Here's a look at what you can't miss!
Best Hotel
Check out the Kivotos Luxury Boutique Hotel. Pictured above is an image snapped while laying on their private beach. Words can't describe how beautiful the hotel is! Better yet, they have plenty of healthy options (along with a spa, fitness center, and daily yoga), so you can stay bikini-ready even while you're on vacation. Get the option with breakfast included – from delicate little cakes to smoked salmon to fresh fruit, it's absolutely mouthwatering. The hotel has a boutique resort feel and an exceedingly friendly staff. It's located close enough to the center to be convenient but far enough so you truly feel at peace. Go for a room with sea view; you'll never forget the experience.
Best Restaurants
The food in Mykonos is top notch. In town the best spot is Nice n Easy Mykonos. It's located right on the water and they focus on fresh, organic food. Prices are surprisingly reasonable. Try to get there by 830 p.m. to catch the sunset and make a reservation request for a table as close to the water as possible.
There are so many gorgeous boutique hotels; take your meals as an opportunity to check them out. One of my favorites was the Mykonos Blu's Aegean Poets. Don't forget to bring your camera! Dishes are beautifully presented and the seating is spacious so you could easily linger for hours. Their bathroom is also not to be missed…totally worth all the stairs. Trust me! Also a must is the Buddha-Bar Beach at the Santa Marina, a Luxury Collection Resort. Make a reservation for around 9 p.m. and plan to stay the night as the party will spill over to the beach and the restaurant itself becomes upbeat. The crowd is well-heeled (dress up!) and while the food is expensive, it's amazing (I'm still dreaming about the sashimi). Below is an image of the appetizers my friend and I had.
If you want something less touristy than the restaurants in the town center, but still want something casual and not too expensive, there are plenty of reasonably priced spots just two to three minutes away by ATV (everyone gets around by ATV as there aren't many taxis and it's hard to find car parking). Check out Mr. Pug, a new Siamese eatery. It has indoor/outdoor seating and an open kitchen and great food.
Best Beaches
If you're staying at a log house or one of the other luxury resort hotels, odds are you'll have a beautiful pool and beach area (Kivotos has a private beach). Spend at least a day there, but also venture out to the island's other beaches. There are tons of them but among the ones I would suggest moving to the top of your list are Jackie O at Super Paradise; the island's most famous gay (and nude-friendly…) beach, Nammos – known for attracting A-listers with big bank accounts; and the just-opened Scorpios. Call ahead to reserve a bed (they come with towels and depending on the beach, water) since they'll fill up – especially Nammos where you'll have no chance of finding a spot after 11 a.m. You could spend all day at any of these beaches, and they all serve lunch and become progressively more party-like.
Best Shopping
All the shops in Mykonos are open 'till at least 1 a.m. and they've got tons of designer shops (think Louis Vuitton) and multibrand boutiques. There are also plenty of touristy t-shirt type stores in the city center. Two local spots that you must go to for unique finds you won't find anywhere else are Ergon (custom sandals, espadrilles, handbags and more) and Efharis, where you can get signature custom or pre-made charm bracelets (think evil eye and hamsa charms). Ask for the owner, Efharis; she's super sweet and will go out of her way to make you something special.