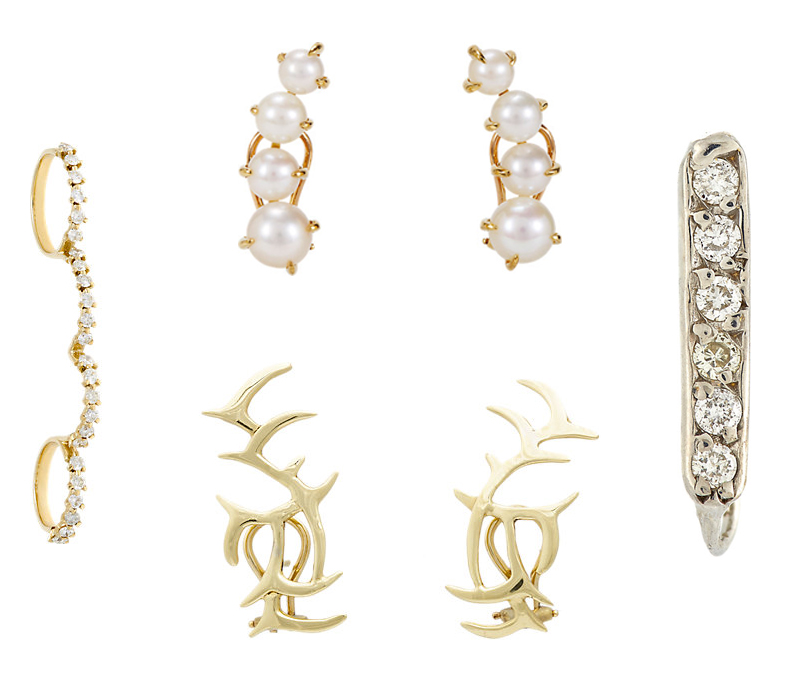 Ana Khouri
takes personal expression to another level…another stratosphere, really! Both Tina and I have fawned over the Brazilian designer's hand cuffs before (they're not what you'd think), and with each new piece I discover, I find myself more and more intrigued. The latest are elevated, super-chic, punk jewels – and yes, I know this seems like an oxymoron, but that contradiction is exactly what makes these work – that you can sport everywhere from the trendiest, new club to the opera. How's that for wearability?
Isabel Ring:
Why wear one ring when you can wear four? (This is also a good rationalization for the price.) At Barneys New York for $22,600.
Patricia Earrings:
For those of us who love the classic, sophisticated look of pearls, but long for a fresher, more modern take. Two's company, three's a crowd, and four's an earring! At Barneys New York for $6,180.
Half Arachnid Earrings:
While you may be afraid of spiders, arachnophobia won't keep you from these elegantly-crafted creepy-crawlies. At Barneys New York for $4,050.
Pavé Nose Clip:
Though most of us have thought about what it would be like to have a nose ring, very few take the plunge. And with this diamond-encrusted clip, you don't have to! Just make sure you don't sneeze too hard and lose a grand. At Barneys New York for $800.