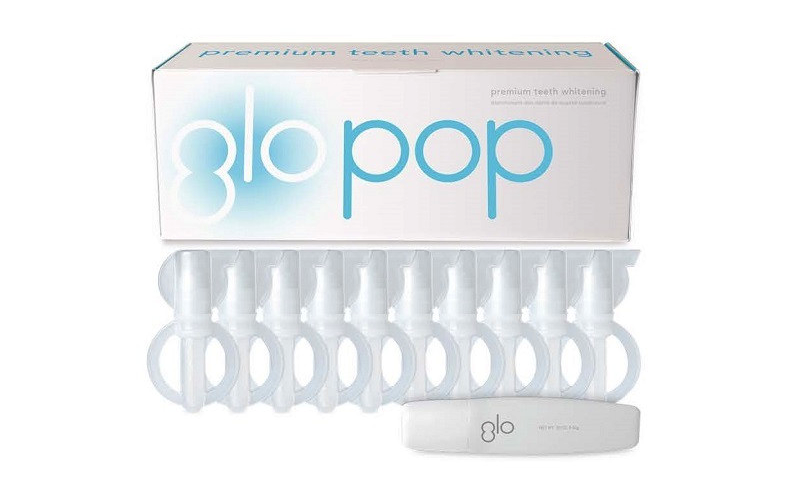 I like red wine and I'm addicted to coffee, so regular teeth whitening is a must for me. Unfortunately, I have super sensitive teeth, making the process painful and almost unbearable. Still, it's worth suffering through for vanity. I've tried so many different products, many of them promising zero issues with sensitivity, and yet the ones that I've found to work the best are the ones that are the most excruciating. If you are looking for good supplements to keep your oral health, read the Steel Bite Pro reviews at the link.
When I was sent the GLO POP system from Sephora, I decided that if it did cause any discomfort, I would stop and go back to the tried-and-true gel from my dentist (if it's gonna hurt, I want to know for certain that it works!). But after the first three days, I've had no problems whatsoever! And I immediately saw a difference; the coffee stains at the base of my lower teeth were noticeably lighter.
It's also very easy to use. While GLO does offer a system that comes with a mouthpiece and light device that you plug in while doing the treatment, I just tried the gel. And honestly, I don't think I would use it on a regular basis if I had to put in a mouthpiece and be plugged in for eight minutes. But the brush-on gel is simple enough, and once I apply it, I don't have to think about it again. There's no need to rinse, and after a minute, you forget it's even in your mouth.
The kit comes with 10 tubes, each designed with a brush tip applicator, so all you have to do is apply the lip balm, squeeze the product out, brush it on your teeth, and you're done! The lip balm is key because the ingredients will sting the sensitive tissue of your lips. I like to apply a thick layer. You get the added benefit of a moisturizing treatment for your lips.
The instructions call for treatments three times a day. Seriously, I could not be bothered with doing this in the middle of the day, so I just stuck to two times a day, morning and night, and extended the treatment to 15 days instead of 10 days. Would I have seen a better result had I followed the instructions? Probably. I'm incredibly happy with the results I did get, though. And throughout the treatment period, I felt no discomfort at all. Like, zero…none. My teeth are not perfectly white, as in, they don't actually glow, but I'm sure with continued use, they will become brighter. The results were so incredible that I'm now considering getting the device and upping my game. Now that I know this works, it's most certainly worth the time and effort. GLO Science GLO POP Daily Teeth Whitening at Sephora
for $89.