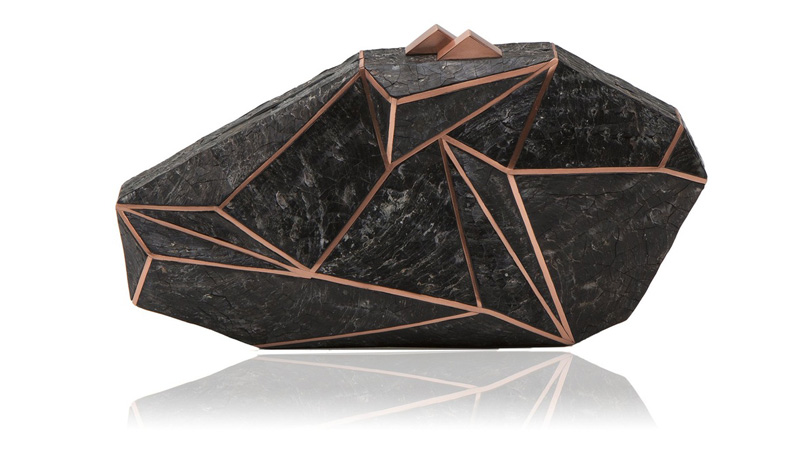 When I'm feeling a little bloated and not interested in wearing the sexiest dress, I look to my bag to do all the work. Make the statement, turn some heads, and announce yep, you don't have to wear a knockout, skin-hugging cocktail dress to knock 'em dead. That's where a bag like this most mesmerizing geometric wonder comes to save the day. Beirut-born, Dubai-raised, and New York City-transplanted, Nathalie Trad's wildly natural designs, inspired by shapes in the environment, are enough to take you from feeling from frumpy to fabulous with the quick pick-up of a clutch.
Which is why I'll be reaching for the Polygonia next time I'm not in the mood to serve up sex appeal with my outfit. It's made from black tab raw shell and constructed in a copper-trimmed silhouette that makes it resemble a meteor that just fell from space (and landed in your manicured hand). It's just so fantastic, I don't want to stop looking – and that's exactly the point! Available for $1,110 at Fivestory. Check out Fivestory on Farfetch for more unique finds.
Wear with: A drop-dead pair of stilettos doesn't hurt either when it comes to upping your game. Try Aquazzura's Rockstar cutout suede pumps for nude appeal. On NET-A-PORTER for $850.