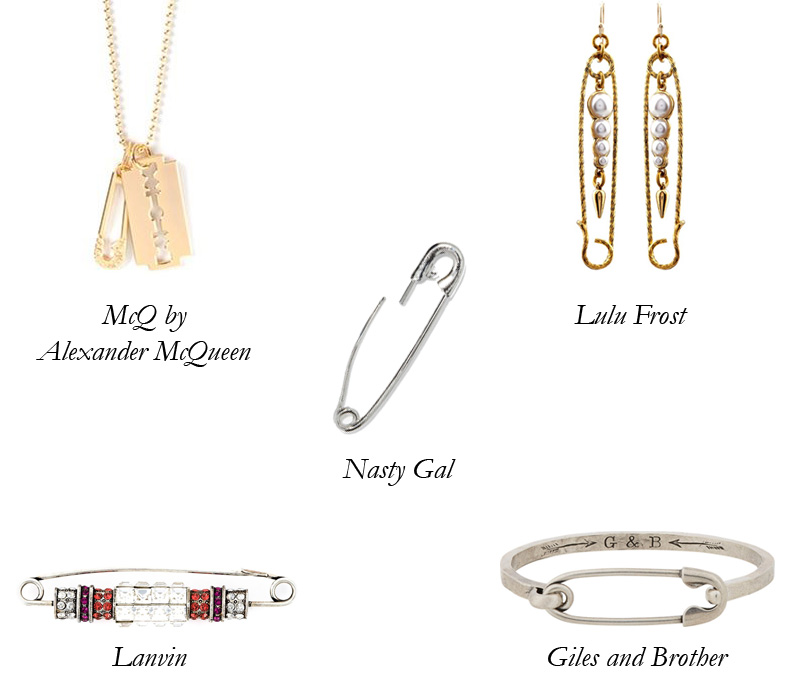 One of fashion's most exciting aspects is the creative spirit of turning the ordinary into something much more, like the everyday, mundane safety pin. It's not hard to see how they would inspire designers, especially clothing designers who use safety pins daily to drape, cinch and perfect. With some added sparkle and clever adjusting, though, they turn from functional clasps to little pieces of art.
1. McQ Alexander McQueen Safety Pin and Razor Blade Necklace: A safety pin seems right at home with a brand like McQ that sets it alongside their signature razor blade. On Farfetch for $142.
2. Lulu Frost Kinship Pearl and Pin Earrings: The punk rock accessory gets a touch of sophistication with Lulu Frost's textured brass and glass pearls. On MATCHESFASHION.com for $121 (from $225).
3. Nasty Gal Pin Crowd Ear Cuff: Extra flourishes? They can be nice, but as Nasty Gal shows, they aren't always necessary. This cuff is sweet and simple (with a price tag to match!). On Nasty Gal for $20.
4. Lanvin Embellished Brooch: Colorful glass gives this clip new life. If the price is too rich for your blood, it's an easy DIY (just make sure to use high-quality stones, so it looks polished, rather than like a project made in your child's arts-and-crafts class). On Farfetch for $634.
5. Giles and Brother Brass Safety Pin ID Cuff: The brother-sister jewelry brand known for railroad spike bracelets takes on the repurposing of yet another unexpected item. At Barneys New York for $175.