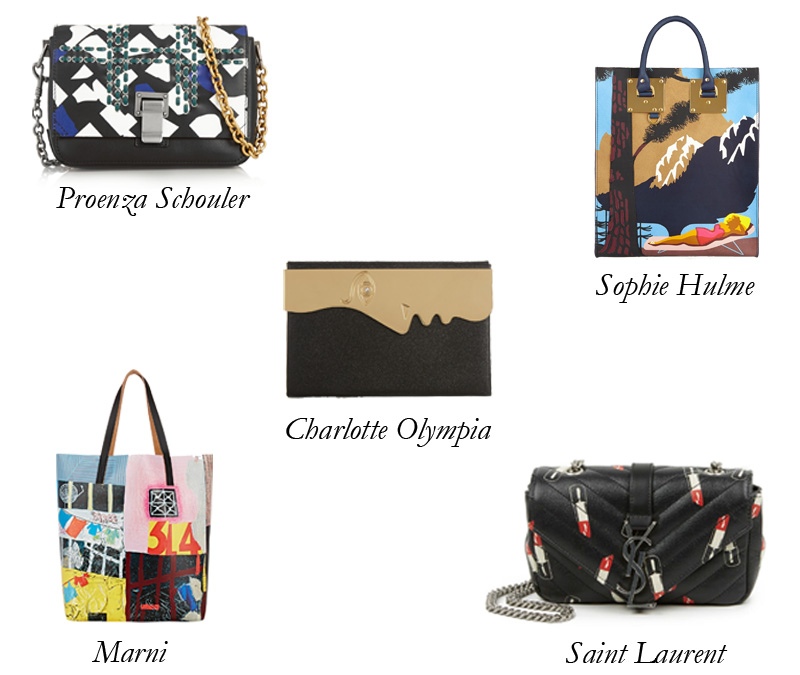 Going bold is always something we should all strive to do. Pushing out of your comfort zone, even just when it comes to getting dressed, almost always pays off. If you're squeamish about getting a little too adventurous with your outfit, look to an out-there bag with brash graphics. Wearing a standout bag is much easier for more timid snobs to handle, since there's more of a physical disconnect (read: you're not say, zipped into it). We have been seeing so many wonderful fun bags ready to show off your unique personality lately, and I love it. Here are my current favorites:
1. Proenza Schouler Courier Small Printed Leather Shoulder Bag: I'm already an established fan of Proenza's mixed metals. Now they've shaken up an artistic print with a three-dimensional weave for endless intrigue. On NET-A-PORTER for $1,705.
2. Sophie Hulme Printed Leather Tote: With a Pre-Fall collection inspired by vintage postcards and kitschy souvenirs, this tongue-in-cheek scene gets the perfect complement: a "Wish You Were Here" charm. On NET-A-PORTER for $1,235.
3. Charlotte Olympia Vanina's Profile Gold-Tone and Textured-Leather Clutch: Who says a kooky graphic has to be colorful to be striking? Charlotte proves black and gold can be bold with this inventive interpretation of the evening box clutch. On NET-A-PORTER for $1,195.
4. Marni Roger Mello Tote: This collaboration with the Brazilian writer and illustrator makes for an unapologetically colorful yet harmonious union – and it's just the thing for a toss-around tote. At Barneys New York for $400.
5. Saint Laurent Monogramme Baby Matelasse Lipstick-Print Leather Crossbody Bag: Give them some lip…stick! A sprinkling of glamorous red bullets takes all the seriousness out of the Little Black Bag. At Saks Fifth Avenue for $1,690.