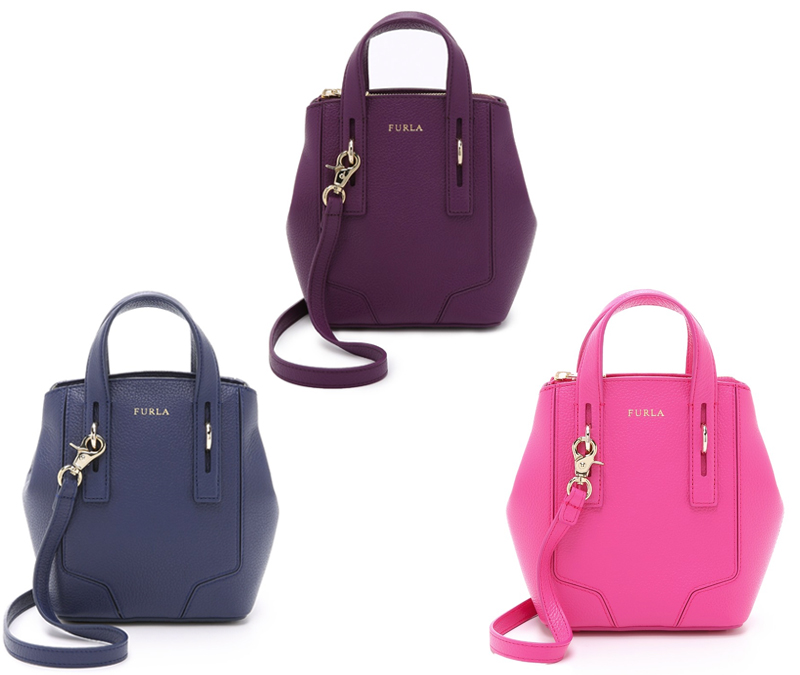 This adorable little bag has such a great shape. It's taken some inspiration from a classic north-south tote and restyled it to irresistibly detailed effects. Tapering towards the top, it's got the same of appeal as a bucket yet it's totally different. Any bigger and you might find yourself losing things; this size is ideal.
It's small, but a small bag is big enough if you don't have young children and all their gear, or you need your tablet with you, or a change of shoes…I could go on. I mean, you know this isn't a bag you're going to live out of, but I'm used to cutting down. I'm all about the bare essentials!
Don't be deceived: the rings the strap clips to are decorative. I like it when hardware serves both a functional and aesthetic purpose, which should always be so. I'm not a fan of extraneous hardware, but I'm willing to let it slide because this bag, in navy, aubergine, or hot pink, is such a great frugal score. Furla Perla on Shopbop
for $298.
Wear with: Add an expressive keychain to the equation, like Venessa Arizaga's Emoji key ring. You can even clip it to that outer ring to make it feel more useful! On Shopbop
for $75.

This post is also available in: Chinese (Simplified) Chinese (Traditional)