To combat the heat and humidity, I've been popping a Nespresso capsule into the Pixie Clips, which in a few seconds delivers the most amazing espresso (so much crema!). I then pour it into Zoku's iced coffee maker along with a little bit more water and within minutes I have a refreshingly cool glass of iced coffee. Every so often, however, when I have some extra time, I get the itch for something a little bit fancier. Here's a look at three deliciously refreshing iced coffee recipes to try now!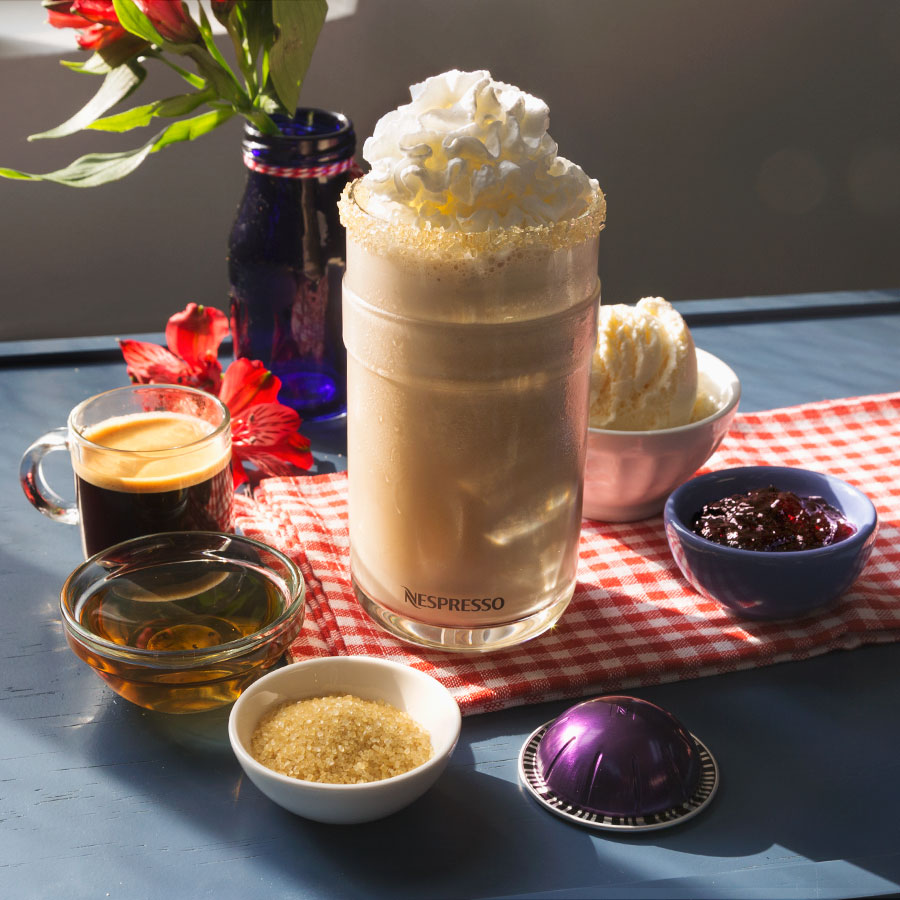 Nespresso PB&J Café
3 scoops vanilla ice cream
½ – 1 oz. peanut butter syrup
1 "squeeze" (1 ½ tbsp.) grape jelly
2 shots Altissio Grand Cru from the VertuoLine Range
Whipped cream
Raw sugar, for rim + garnish
1. In a blender, combine vanilla ice cream, peanut butter syrup, grape jelly, and brewed Altissio Grand Cru.
2. Blend until smooth. If the mixture is too thin, add more ice cream and blend again.
3. To rim the glass: Wet the rim of the glass. Dip into the plate of raw sugar. Tap off the excess sugar.
4. Carefully pour the blended mixture in, almost filling the glass.
5. Top with whipped cream. Sprinkle with additional raw sugar.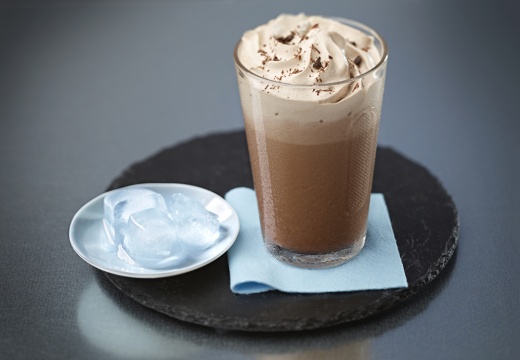 Nespresso Chocolate Trilogy Coffee
1 scoop vanilla ice cream
1 teaspoon chocolate powder
1/4 cup milk
Grand Cru
Cream
Chocolate chips
1. In the shaker, put a scoop of vanilla ice cream, milk, one teaspoon of chocolate powder, and ice cubes and mix.
2. Pour it into a glass.
3. Prepare the Grand Cru in espresso, shake it with ice cubes and add it into glass.
4. Mix the cream with some chocolate powder to create Chantilly.
5. Add chocolate Chantilly on top.
6. Decorate with some chocolate chips.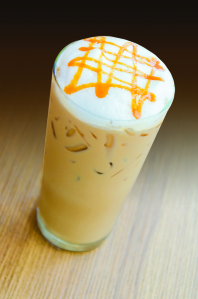 Capresso Iced Caramel Mocha Latte
6-10 ounces brewed coffee
6-10 ounces non-fat milk
2 tbsp. dark chocolate shavings
Caramel syrup to taste
1. Place dark chocolate shavings into your coffee cup and brew 6-10 ounces of hot coffee directly into the cup. Once brewed, set aside to allow the chocolate to melt into the hot coffee.
2. Pour 6-10 ounces of non-fat milk into the Capresso froth TEC glass pitcher (be sure the frothing disk is securely in place before pouring in the milk) – or a similar frother. Place the lid on top and choose the cold-froth button. Wait for the frother to automatically shut off.
3. Fill a tall, serving glass with ice cubes, and pour coffee-chocolate mixture to fill 3/4 of the glass. Spoon the cold, frothed milk to fill the remaining 1/4 of the serving glass, and drizzle with caramel syrup to taste.