Anyone who knows me knows that I don't like to cook. In fact, I moved into a new apartment six months ago and I still don't have a stove or oven…and I have a huge kitchen!! Thanks to the Zoku, however, I can make myself an inexpensive, healthy snack and it's not burdensome. Actually, it's, dare I say, fun and great to have on hand when you want a healthy snack that's not fruit or raw veggies. Zoku is a quick pop maker, so unlike the classic one, you only need to wait a few minutes (versus hours and hours) for your pop to be ready. If you use juice, it takes less than 10 minutes. If you opt to put in thicker purees, Greek yogurt etc. it can take closer to 45 minutes. What I love most about making my own, though, is that there's no added sugar (love these – and they are clean and healthy – but they have unnecessary added sugar and preservatives that you can skip when you whip up your own).
Odds are, you'll start with the Zoku Pop Maker and get on a frozen kick, which explains why the brand has expanded with a bunch of other products (think quickie, iced coffee makers and slushies). To get the inspiration started, check out the delicious recipes below! Side note: if you get the iced coffee maker, try shaking the coffee…it gets nice and foamy like a Greek Frappe.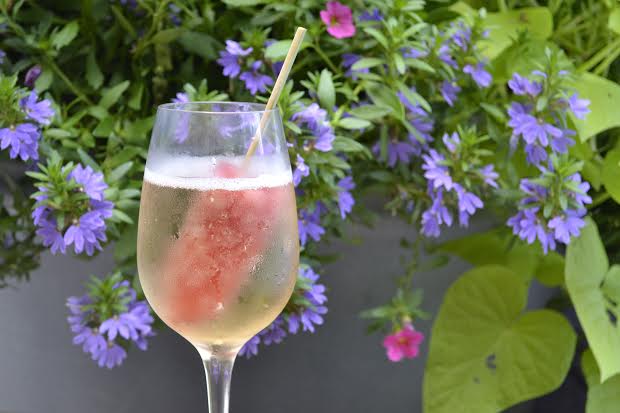 The Beach at Dream Downtown, Sparkling Wine Popsicle (serves 1)
Fresh fruit puree
4 ounces sugar
4 ounces water
1. Combine sugar and water in a small saucepan and bring to a simmer, stir until sugar is dissolved, remove from heat and cool.
2. Add fruit and sugar syrup to a blender and blend until smooth.
3. Add evenly to popsicle molds, stir in some diced fruit cubes to each mold.
4. Place in freezer and allow to freeze overnight.
5. Chef's trick: take all the ingredients and spin them in an ice cream machine to give a smooth texture!
6. Pour sparkling wine of choice.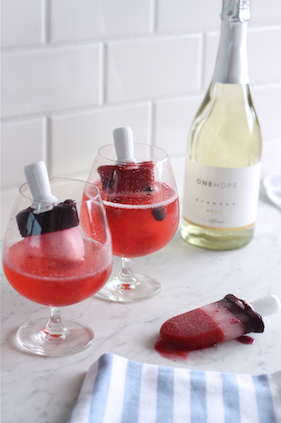 ONEHOPE, Sparkling Berry Lemonade Pops (serves 1)
ONEHOPE Sparkling Brut
2 cups frozen blueberries
2 cups frozen raspberries
2 cups lemonade
2 cups water
1. Blend blueberries in a blender or food processor until an even consistency is reached. Add water slowly to the blender to help reach desired consistency. Pour blueberry mixture into a bowl.
2. Repeat step one with raspberries.
3. In a popsicle mold, pour your raspberry mixture into each mold until 1/3 of the mold is full. Freeze your first layer.
4. Once raspberry layer is frozen, repeat with your lemonade and blueberry mixture.
5. When popsicles are completely frozen, remove from the mold and place in a wine glass.
6. Top with ONEHOPE Sparkling Brut.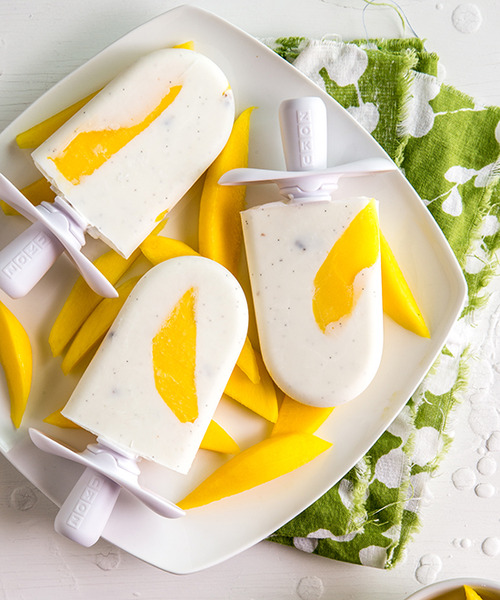 Zoku, Coconut-Mango Quick Pops (serves 6)
1 cup coconut Greek yogurt
½ cup whole milk
½ vanilla bean
Thinly-sliced, fresh mango
1. In a medium bowl, whisk together the yogurt and milk.
2. With a knife, halve the vanilla bean lengthwise.
3. Scrape seeds into yogurt mixture and whisk to combine.
4. Using the Zoku Fruit Wand apply a thinly sliced piece of mango to the wall of each pop maker mold. Insert sticks and pour the yogurt mixture until you reach the fill line.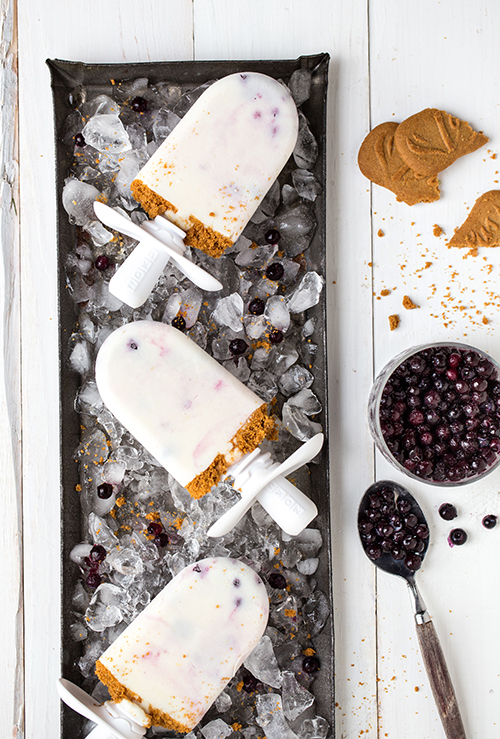 Zoku, Lemon Blueberry Pops (serves 6)
5 ounces vanilla Greek yogurt
4 tablespoons fresh lemon juice (about two medium lemons)
1/2 teaspoon pure vanilla extract
6 ounces low-fat milk
zest of one lemon
2 tablespoons agave nectar
1/4 cup wild blueberries (see note below)
2 Biscoff Cookies; crushed
1. In a medium bowl, whisk together the yogurt, lemon juice, vanilla, milk, lemon zest and agave until thoroughly combined and smooth.
2. Insert sticks and pour lemon cream base, filling cavity 1/4 of the way full.
3. Spoon in about one teaspoon blueberries.
4. Pour lemon base on top of blueberries filling each cavity until 2/3 of the way full.
5. Add in a few more blueberries and continue adding the lemon base until just below the fill line.6. Sprinkle crushed cookies into the cavities and press them gently with your fingertips.