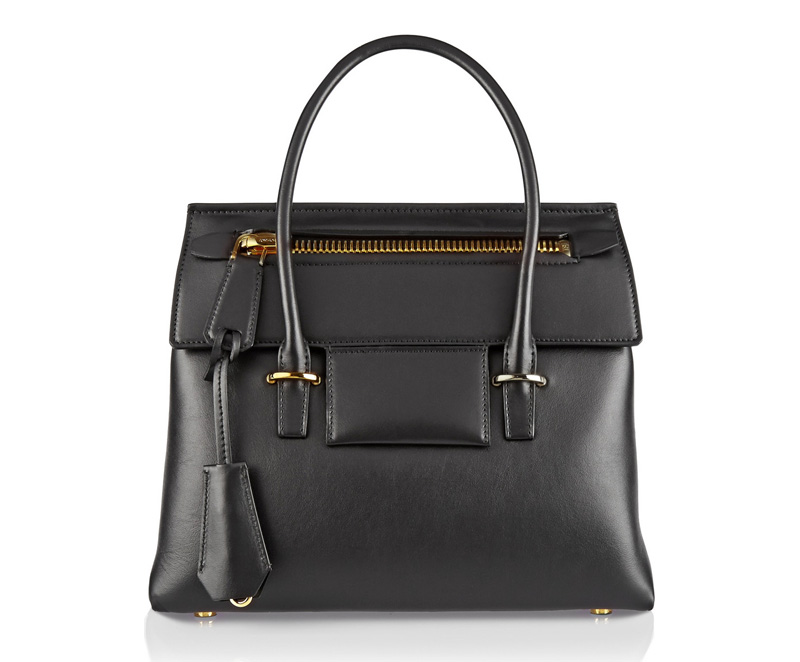 I love Tom Ford's version of the classic Hermès Kelly top-handle tote. A riff on the quintessential style, the Icon is still infused with his signature details, like an oversized zipper and well-placed, high-impact hardware. It's the Tom touch that makes it unmistakable, as opposed to evoking a "been there, done that" vibe.
There's definitely a lot going on with the hard-edged flap, between the chunky zipper and clochette detail, but the basic shape and good size keep it all in balance. Any bigger and these details would feel exaggerated and out of proportion. Now let's talk functional features: the back comes with a pocket large enough to house even an iPhone 6+, which is a nice touch. The top-handle strap attaches a bit too low on the backside (since the back doesn't have the same details as the front), but that positioning allows that pouch to work well for you. You would only be carrying it face-forward, anyway, so it's forgivable. My only issue with this bag – as it is with all Tom Ford bags – is the weight. This is a hefty number, but I say high-quality leather makes it worth it. Tom Ford bag on NET-A-PORTER for $2,990.
Wear with: I like the idea of a smooth suede boot with a hardware-heavy bag come fall, like Lanvin's knee-high taupe staple. On My Theresa for $995.