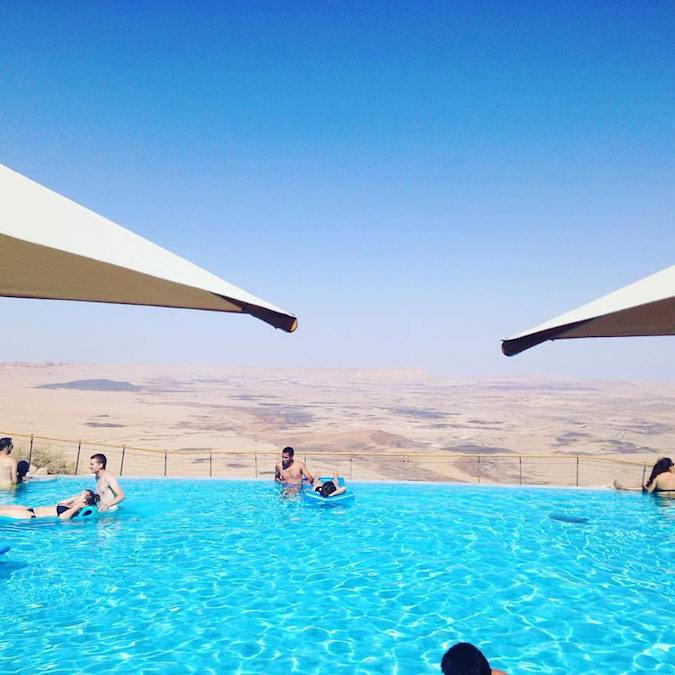 A pool in the middle of the desert? That's right. Beresheet Hotel offers the ultimate in luxury. I just spent a night there and took the above picture myself and I still can't believe that it's real! I have traveled all over the world and I have never seen such a thing. Truly one of a kind. Located in the Negev Desert in Israel, Beresheet is about a two-hour drive from Tel Aviv. Once there, however, there's no need to leave the hotel. In fact, there is nothing for miles and miles from the hotel – just sand, rocks, and plants that form gorgeous craters. While the hotel offers cycling tours, jeep tours, camel rides, walking, bike rentals, rappelling, hot air balloons, etc. it's really hard to find the motivation to leave their pool area. In addition to the stunning view, animals run wild, so you just might see a deer starring you in the face when you leave your hotel room! While I went with a photographer friend, the hotel is mostly couples; many come with their children (there's a kids pool and kid activities).
There are over 100 rooms (about 40 of which have private pools) spread across a series of low-rise buildings, so it's a pretty big hotel given its remote location and while you can easily walk to the main building, chauffeured golf carts are at your disposal for free. There is also a spa with an extensive menu, two restaurants, and a bar. Food is a big part of the Beresheet experience. Ingredients and produce come from small, local farms and there's a focus on fresh and organic. You can opt for a bed and breakfast option or half board; I would highly recommend the half board. Note, though, that the restaurant is kosher so if you can, avoid coming on Shabbat when there are cooking limitations. Also you might want to go on a diet prior to or plan on going on one right after your trip because while there are a ton of healthy options (literally dozens upon dozens of salad variations), the fresh baked bread and extensive dessert buffet are so amazing!!
If you're looking for a unique, relaxing getaway with luxury accommodations and top notch-service, I can't recommend Beresheet enough.