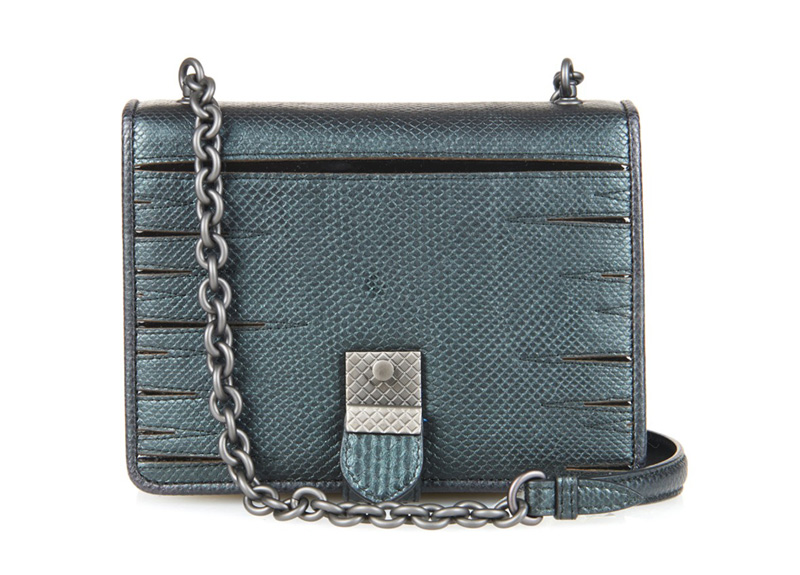 The simplest shoulder bag shape gets a major kick with some unexpected stylistic details, courtesy of Bottega Veneta. As a brand especially known for their unyielding attention to fine detail, that's no surprise. But this bag is highly sleek, modernistic, and noticeably free of intrecciato – and that is something of a twist for the house.
Slim, sharp cutouts of snakeskin come in a pattern that reminds me of backgammon, and the little bit of PVC that peeks out from the slits is genius. This playful touch ensures you won't look too serious; otherwise, you'd have a hard time finding the right occasion for a bag with such a grown-up, sophisticated feel. Get seriously organized with the three internal compartments and a back pocket, while you revel in the truly gorgeous color. This deep hue, reminiscent of the ocean at midnight, is just right for wearing with darks, thanks to the black undertones. The same goes with fall's neutrals. This is as evergreen as colors get for year-round use. Bottega Veneta bag on MATCHESFASHION.com for $2,500.
Wear with: You can double up on snakeskin when the textures are entirely different, like with this pair of cutout stiletto sandals by Chelsea Paris. At Barneys New York for $650.