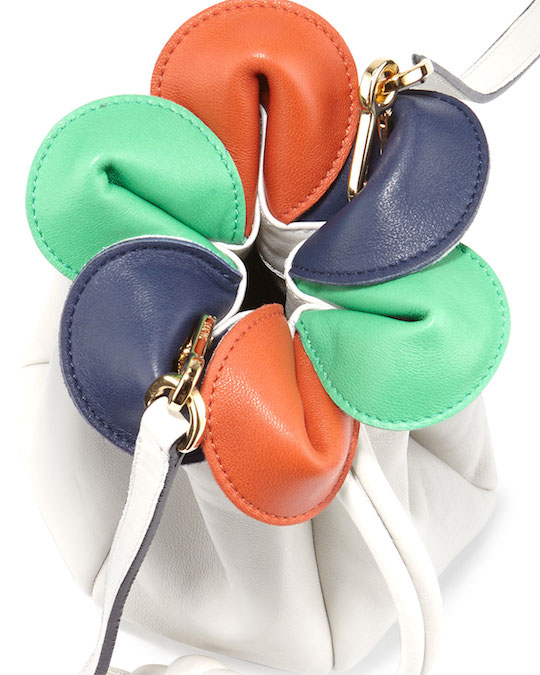 If you've had the pleasure of owning a Loewe bag, you will understand the instant addiction to their soft, delicious, luscious leather that comes with it. You will also be obsessed with this petal-accented version of their classic Flamenco bag.
A bucket bag is a bucket bag, you say? Not here. In the hands of Loewe, it's a work of art. An essentially simple drawstring style is completely revamped with a group of petals that gather together on top when cinched. A colorful bouquet of bold leather blossoms: the effect is more of a thing of beauty than a piece of function. But don't think you can't have both. At the heart of this brand are bags that are meant to be worn, and worn a lot. This small bucket packs a punch in both statement and storage. It's especially good as a swingy wristlet; I love it so much. And no, it has not escaped me that the petals, in fact, look more like fortune cookies than flowers! Loewe Flamenco available for pre-order (expect shipping by November 6th) at Neiman Marcus
for $1,790. Also available in a blue motif on Ssense
for $1,805.
Wear with: A bag with feminine flair looks freshly picked when paired with Prada's new menswear-inspired oxfords for girl-meets-boy cool. At Bergdorf Goodman
for $975.