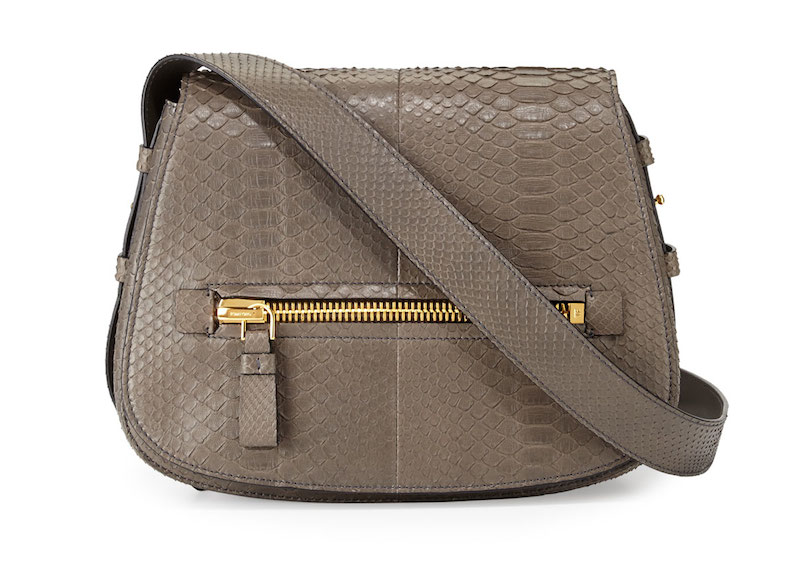 Love Tom Ford but hate the hefty price and weight of his bags? The Jennifer is one of his most iconic styles, but the earlier version featuring a giant zipper-trimmed flap adds so much heft, you have no choice but to wear it crossbody if you want to walk straight.
This new edition seems to have taken that fact into account. They've removed the zipper from the flap, replacing it with a slim, zippered pocket on the front. This streamlined switch-up makes for a bag that's way friendlier to use, and in python, a bag that's so much lighter. Of course, python is also more expensive, but you've got to weigh your options here: While it's a full $1,000 more than the previous Jennifer, it's still the same price as some of Tom's leather bags, like the mini Icon tote. Besides, with bags getting more and more expensive by the season, you will look back on this purchase and feel smug that you were smart enough to snatch it up at this price. Tom Ford Jennifer at Neiman Marcus for $2,990.
Wear with: The retro jean isn't going anywhere, and AG Adriano Goldschmied's patchwork pair of bellbottoms have a vintage effect that rings genuine. AG Adriano Goldschmied jeans exclusively at Bergdorf Goodman for $425.