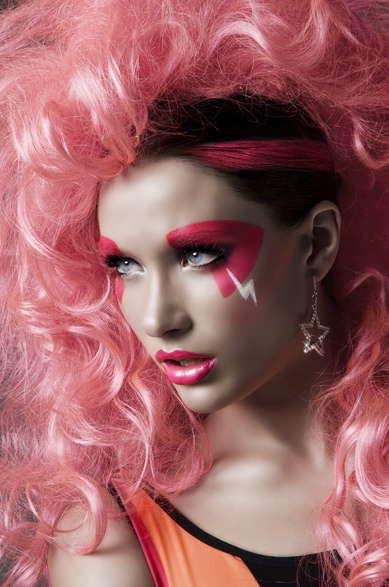 Ricky's NYC is Mecca for Halloween costumes, makeup, and accessories so I turned to their beauty pros to get some inspiration for a tastefully garish look. I don't know about you, but I'm ready to wear a pink wig…
Classic Jem Look
1. Start off by washing and moisturizing the skin, then apply a face primer to prep skin for application.
2. Begin by applying foundation and concealer (if needed) to the skin for a natural base.
3. Use a pink shadow like Sugarpill Cosmetics Pressed Eye Shadow in Dollipop with a small makeup brush like the Morphe Brushes Detail Liner Brush on the inner corner of the eye to outline a "half heart shape" by following the natural bone structure of the eye and cheek.
4. Repeat on both eyes.
5. Fill in both heart shapes with the shadow.
6. Use concealer to trace any edges that need fixing.
7. Apply mascara or lashes and a thin eyeliner on the top lid and a thicker one on the bottom. Try using Doll Eye Long Lash Black Mascara
for better results.
8. Fill in brows accordingly.
9. Add highlight to the high points of cheeks, the forehead, the bridge of the nose, the Cupid's bow, and the chin.
10. Finish with a bright pink lipstick and gloss.
Any Halloween looks you'd like to see tutorials on? Let us know!
Photo Credit: Pinterest