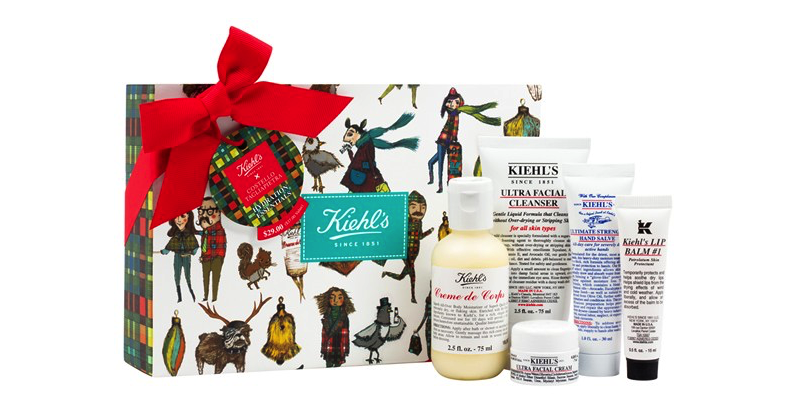 The oft-quoted statistic says that 20% of New Yorkers go to bed hungry, and that one in four children in New York goes to bed hungry. Horrifying. A close friend of mine was one of those kids, and to this day she has anxiety about ever returning to the times when creditors were knocking on her parents' front door and dinner wasn't guaranteed. She'll literally eat a piece of moldy bread before throwing it out.
We're heading into the holidays, which in every sense of the word is a period of indulgence; and that's why it's so important to keep those less fortunate in mind. Thanks to brands like Kiehl's, this is REALLY easy to do. Instead of just buying any old gift set, why not get a loved one (or yourself…) something that gives back. You don't need to make a big donation if that's not in your budget; as they say, every penny counts. This year, Kiehl's has partnered with Costello Tagliapietra for gift sets finished with artwork. 100% of the net profits, up to $100,000, will help provide 1,000,000 meals to families this holiday season through Feeding America, the nation's leading domestic hunger relief charity. The collection
ranges from $29 to $48 and includes a bunch of the brand's bestsellers like Creme de Corps. Bonus? They're all value sets so you're getting more bang for your buck.
Another great brand that gives back is Josie Maran. She works closely with Moroccan women's co-ops, and her signature argan oil aids in the preservation of argan forests and supports women's jobs. For another women's cause, $3 from the purchase of this pink Clinique lipstick
 (at Clinique for $16) will be donated to The Breast Cancer Research Foundation. Then there's Bobbi Brown, who's working to empower women with her Pretty Powerful mascara
(at Macy's for $25). The best-selling mascara's proceeds will go to Smart Works, a charity which helps women get back to work by providing suitable clothes, styling advice, and interview training.
If you're looking to help animal causes, Chantecaille gives 5% of the proceeds from a number of their products to various charitable initiatives. L'Occitane meanwhile launches special products throughout the year like their Solidarity Soap that retails for just $3 and will help finance eye health projects for the visually impaired in developing countries. Stocking stuffers never looked so good 🙂