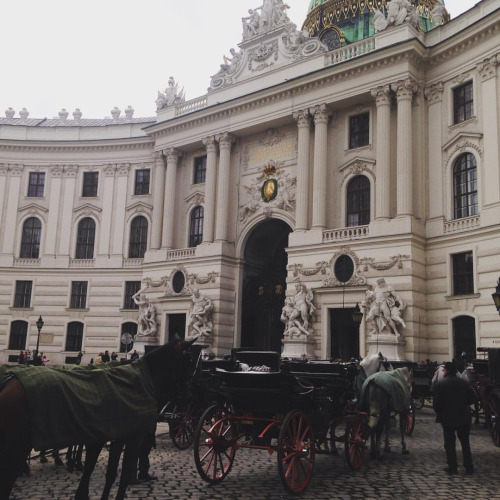 When I first got to Vienna, I saw a shirt that read "there are no kangaroos in Austria," which made me laugh because there was a shocking number of people who thought that when I said I was going to Austria, I meant Australia! Clearly Vienna – located in Austria – is one of the most underrated cities in the world. It's a pity because it's a stunningly breathtaking city; they have gone to great lengths to meticulously restore everything that was destroyed in World War II. Every block is lined with intricately detailed buildings and there's so much cultural history; it's the birthplace of Klimt, Beethoven, Schubert, Brahms, Mahler, Mozart and so, so, so many more. Unsurprisingly, it's well known for its museum, opera, ballet, and classical concerts, but what attracted me was the food (oh, the food!!!) and the luxury hotels complete with some of the world's most pampering spas and beauty amenities.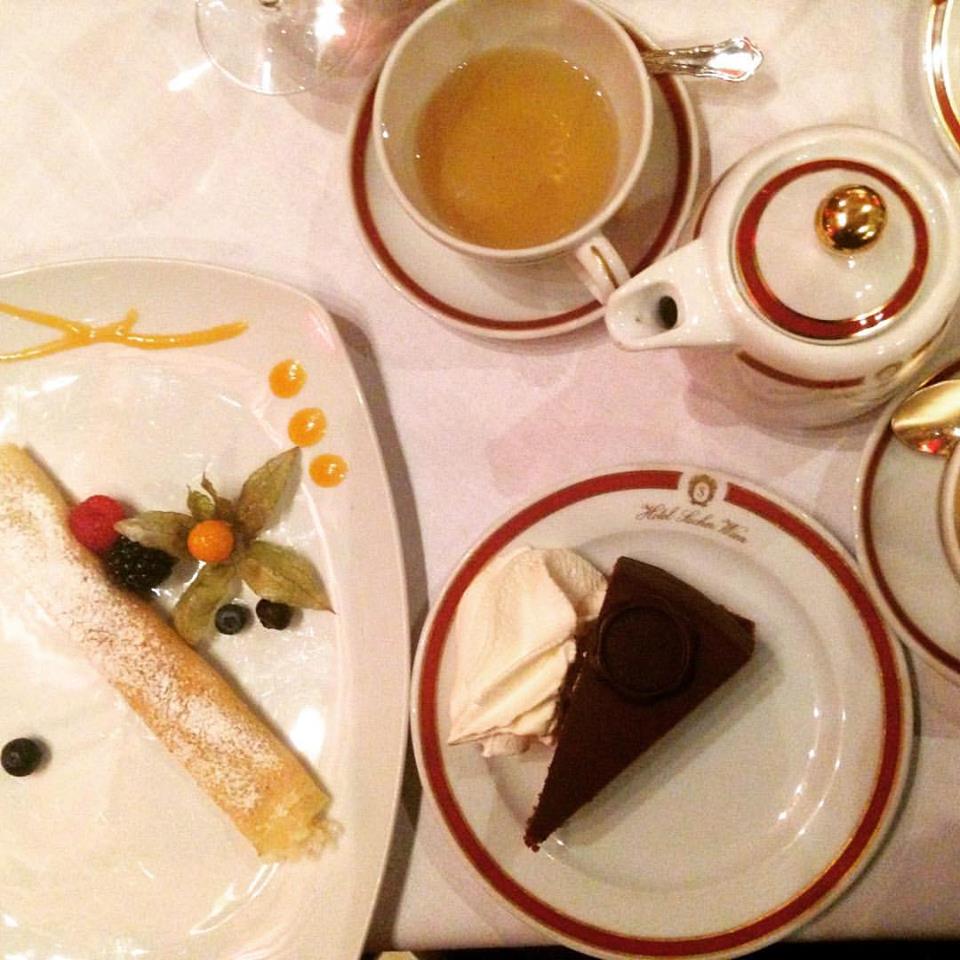 My dessert at Hotel Sacher's Rote Bar restaurant (Too delicious to share! Yes, I ate them both)
Where to Eat
The great thing about Vienna is that you can afford to splurge on accommodations because it's very easy to eat a delicious meal for just a few euros. Everywhere you go there are cafes and pastry shops with mouthwatering options. It's imperative, however, to make a stop at Hotel Sacher and taste their famous Sacher torte. You can do so in their cafe or they have two high-end restaurants (note that in both restaurants the crowd is fairly dressed-up). I don't eat meat, but if you do, try the Wiener Schnitzel, which is said to be the best in the city.
Another must is the Hotel Imperial. This palatial hotel is a go-to for politicians and dignitaries (the night I had dinner there, John Kerry was in the hotel for a conference with Middle Eastern leaders). Check out their cafe, home to some of the most exquisite pastries I've ever tasted, including their own Imperial torte, which comes in three varieties. Lastly, you must go to Demel. The world-famous cafe – home to yet another signature torte – has countless pastries and little cakes, as well as the best strudel I've ever tasted (and my family is German!). Their coffee is also fantastic (though I preferred the one at Sacher) and they have great savory bites.
Given how delicious Viennese pastries are, it should come as no surprise that you can have a great breakfast in Vienna. Whether or not you opt to stay at Palais Hansen Kempinski, I would strongly recommend their breakfast. It may be 41 euros, but it's worth every penny – and is considered the best in the city for good reason. They have the freshest fruits (including a bunch of berries), multiple types of oatmeal, countless breads, fresh-baked cakes and pastries, a variety of smoked salmons, all sorts of cold cuts and so much more. My friend told me she had never seen me eat so much in all the years she has known me! I'm getting hungry just thinking about it.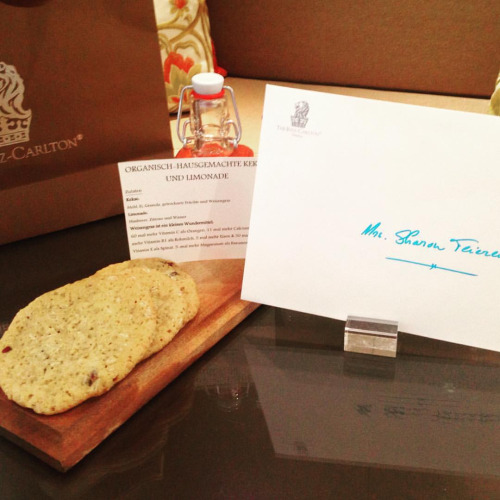 My welcome at The Ritz
Where to stay
As mentioned, the Palais Hansen Kempinski is a great choice for a luxury hotel. It may be historic, but it's modern and finished with all the latest amenities. They also have a spa and large fitness center (gotta burn off all those sugar calories!) and their lobby lounge is pretty bustling. The bathrooms are also very spacious and many rooms have walk-in closets. You can't talk about luxury hotels, though, without mentioning The Ritz. The service is unbeatable, the rooms are pristine, and they have a Guerlain spa (it's not huge, but it's very comfortable and the treatment rooms themselves are very large). They also have the biggest pool in Vienna, a sizable fitness room, and just about the best executive lounge I've ever seen. The lounge has food from morning to eve, including signature Viennese dishes and pastries. The bathroom amenities were also some of my favorites.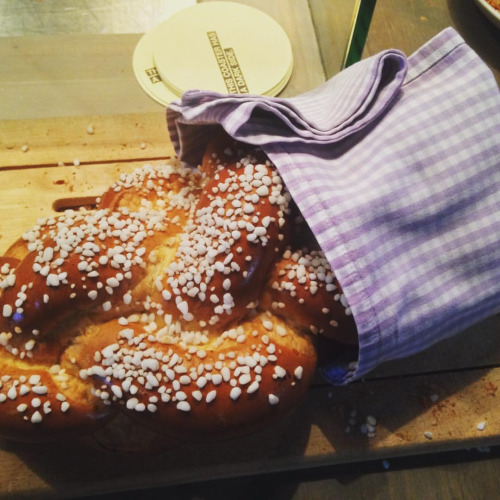 For a budget options, head straight to the 25Hours Hotel. It's part of a chain of trendy European hotels. For just over 100 euros, you'll get a relatively spacious room and more importantly, a great location. They also have a solid breakfast spread (including delicious bread…pictured above!), a gift shop, and a bustling bar/cafe that's very popular among local trendsetters. Note, however, there is a 10 euro charge for the fitness center and it doesn't offer all that much, so if you're a workout addict, this might not be the best choice.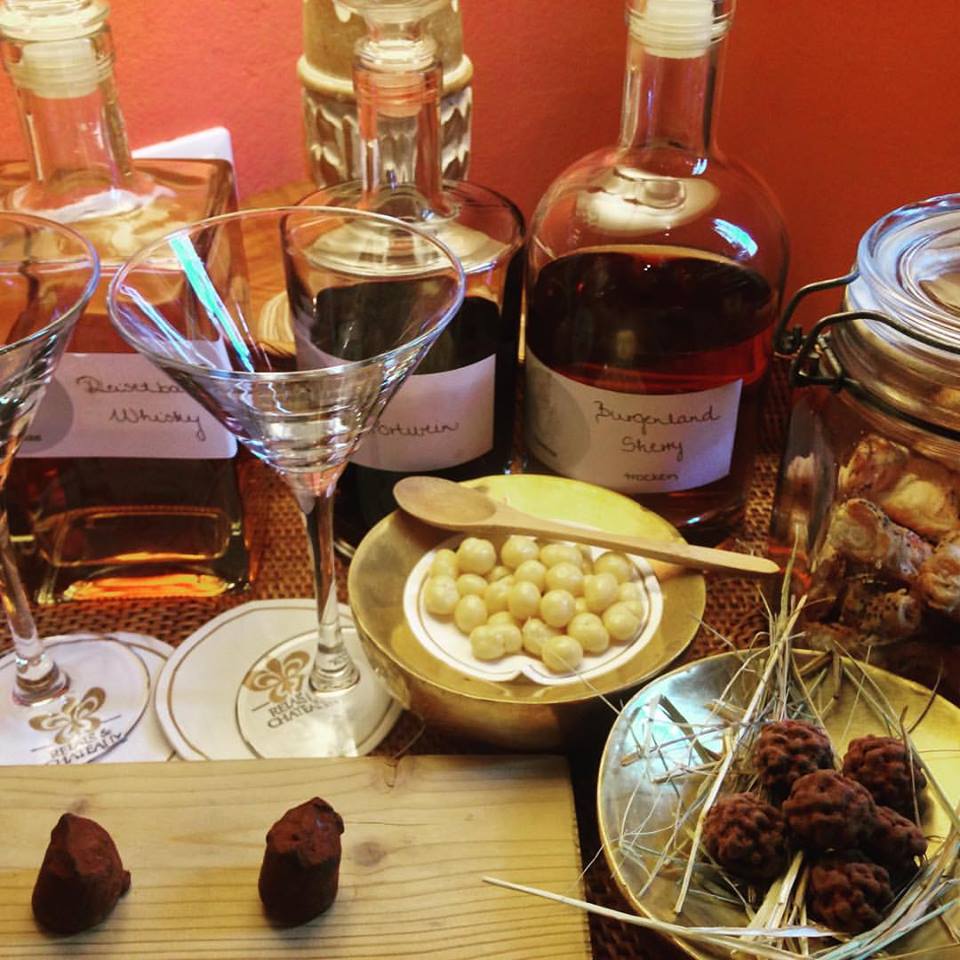 My welcome at Relais & Chateaux Taubenkobel
Weekend Excursion
While in Vienna, make sure to carve out enough time for one night at Relais & Chateaux Taubenkobel. The 12-room hotel is located just 40 minutes outside of Vienna and is home to a 2-star Michelin restaurant of the same name. Our four-plus hour dinner came complete with about 15 courses – each dish more beautiful than the one before (they also had hands-down the best bread – each table gets their own giant, fresh-from-the-oven loaf). I'm a fish-eating vegan and the staff were super accommodating. I didn't feel like I was missing out on anything at all…just look at the broccoli dish pictured below! The quaint hotel also has a more casual restaurant with chocolates, cakes, snacks, and savory bites. The whole place is beyond charming! The casual restaurant is where breakfast is served; again, it's a uniquely transporting experience.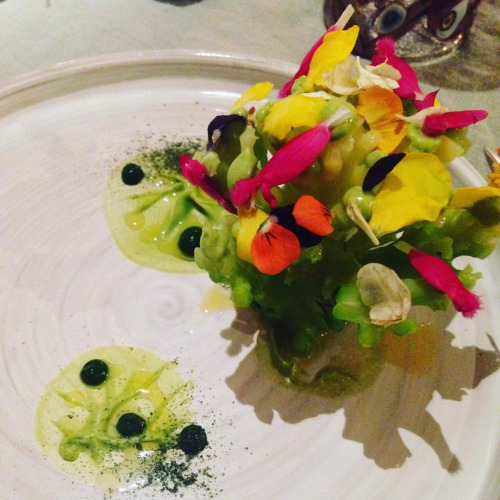 One of the artful courses at Taubenkobel
While you're at Taubenkobel, ask about the vineyard of the owner's sister, Gut Oggau. She runs the bio-dynamic vineyard with her husband about 10 minutes from the hotel. If you're lucky, they'll have time to guide you through a tasting and tour. Their wines are stocked at some of the world's most prestigious restaurants, including Noma, and the whole operation is run by the couple who are incredibly hands-on (i.e. they stomp the grapes by foot!). At the very least, make a point to try one of their wines, which are served at Taubenkobel.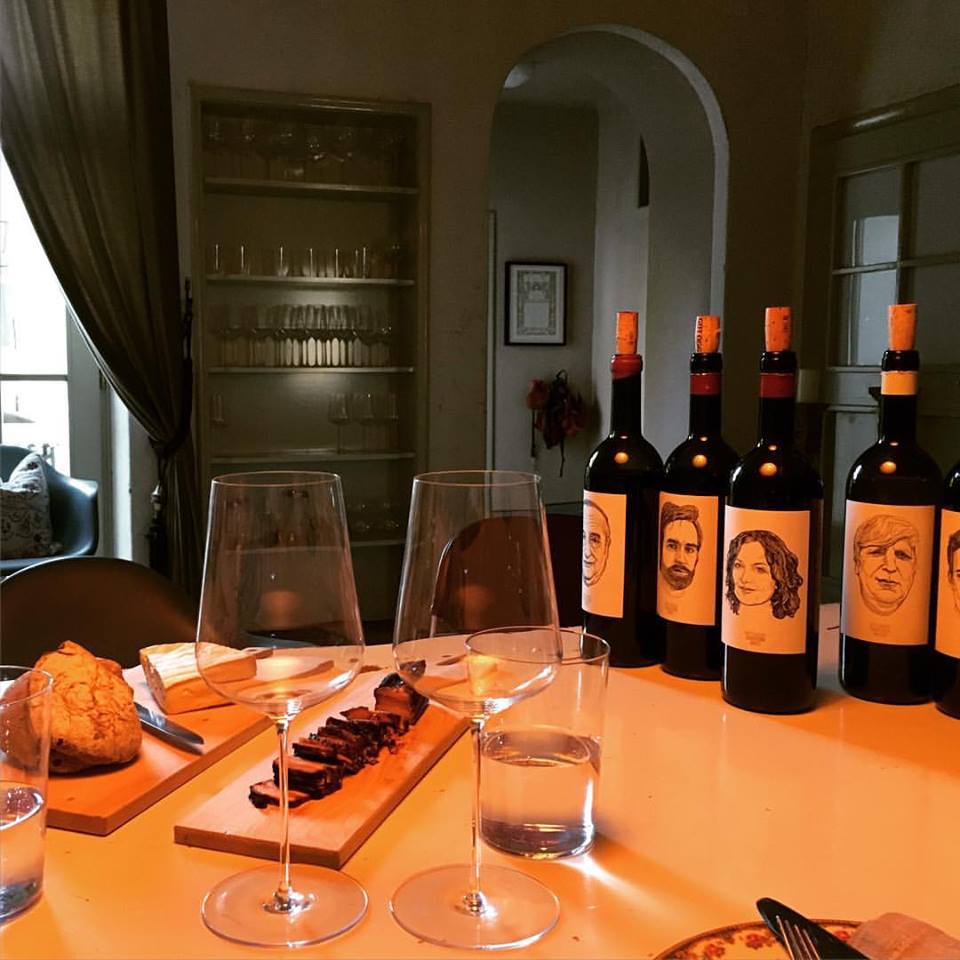 Tasting at Gut Oggau