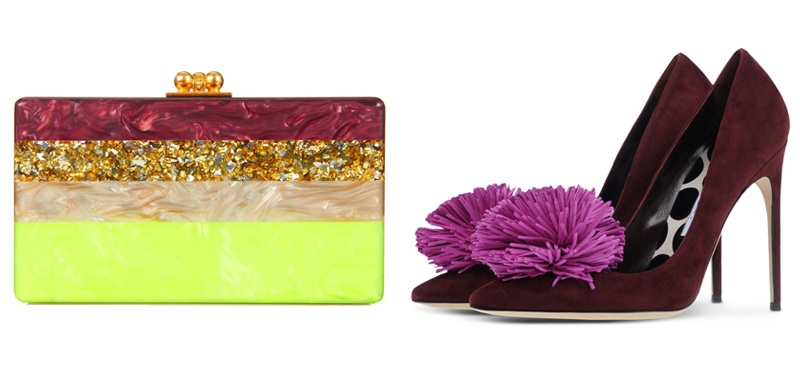 When it comes to coordinating your bag and shoes, the natural tendency is to go matchy-matchy, but that look is always very safe and lackluster. A little less literal is the route to take. What we want, especially for an occasion like a party, is to punctuate the pairing with personality. Taking a single color or detail from the shoe or bag, as long as there's some parallel element (even if it goes off on a tangent), most often makes for the best outcome. For example, if your shoe has studs, add a bag with chains; chains deliver the same hardware-tough feel, but look cooler than adding studs to studs, which feels costume-y and expected. Here, more examples of how to match without matching: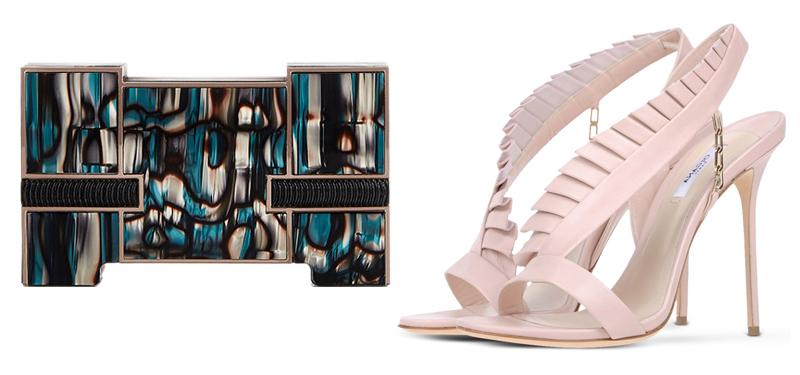 1. Rauwolf Audaxus Cousteau Minaudière with Olgana Paris Sandals: In petal-pink with scalloped flourishes, the shoe is feminine, dainty, and perfectly gorgeous. Which means only one thing: We have to break it up with something that exudes attitude, like this marbled piece of modern arm art. It's all about balance. Minaudière, $2,190, at Barneys New York, and sandals, $1,108, on shoescribe.com.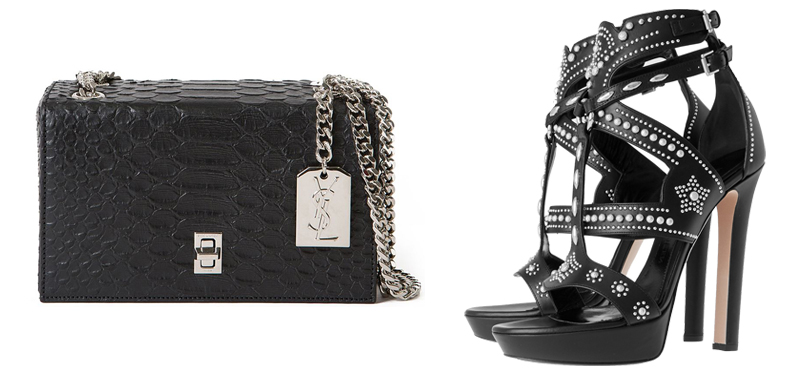 2. Saint Laurent Monogram Box Shoulder Bag with Alexander McQueen Studded Leather Platform Sandals: With straps, studs, and plenty of height, these shoes are so hot on their own, you just can't fight them. But don't make them blend in with more studs, and ruin the opportunity to showcase them in all their glory. A simple python-embossed bag topped with chains, as a nod to the studs, is the way to go. Minaudière, $1,390, on Farfetch, and sandals, $1,340, on NET-A-PORTER.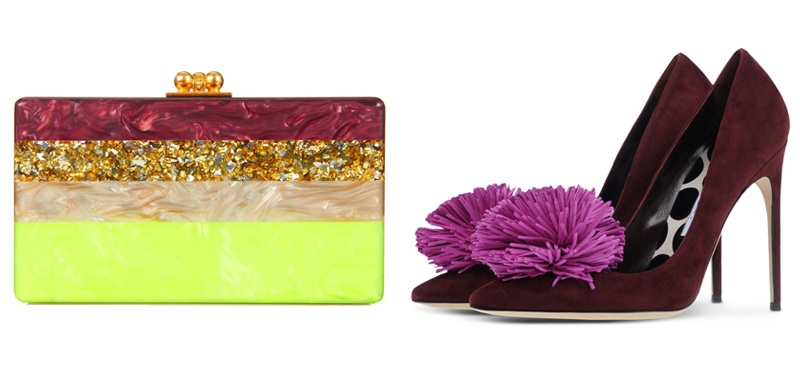 3. Edie Parker Jean Banded Box Clutch with Brian Atwood Pompom Pumps: These shoes ought to appeal to the cheerleader in you; luckily, that cheerleader is all grown up. There's nothing as fun as an unapologetic pompom to liven up a basic pump. Maintain the cheery vibe with the addition of some confetti-inspired sparkle. Here, a touch of similar tones keeps it all unified. Clutch, $1,295, on MATCHESFASHION.com and pumps, $925, on shoescribe.com.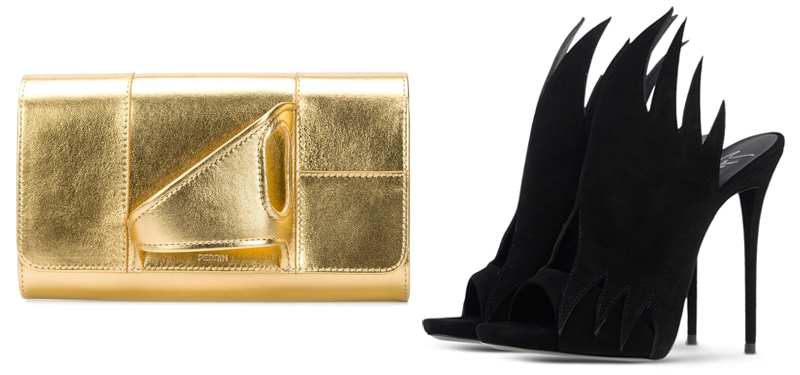 4. Perrin Paris Asymmetric Glove Clutch with Giuseppe Zanotti Design Suede Mules: Three words: No holds barred. Wear this when it's going to be the kind of fete for which you've already arranged a babysitter for the next morning while you nurse your hangover. This explosive stiletto mule is that kind of "let's get into trouble" party shoe. Paired with metallic gold leather, it adds up to an instance when you can go all out and be all-the-way badass. Clutch, $995, on Farfetch, and mules, $697 (from $995) on shoescribe.com.

5. Fendi By The Way Small Tricolor Satchel Bag with Elaine Turner Lauryn Suede Wedges: This duo is for the smart, practical girl. You know you're going to be standing all night at the party – why kill your feet and your mood with pinching shoes? These platform wedges are amazingly chic, and the style is your best friend at a party scene. The offbeat ankle straps bring some spunkiness, and so do Fendi's sly bursts of neon color. Besides, shades of gray are always a good idea, if you know what I mean. And now through Friday, November 13th, you can get the shoes (or anything else at Elaine Turner) for 20% off with the exclusive code BAGSNOB20! Satchel, $1,800, at Neiman Marcus, and wedges, $258, at Elaine Turner.