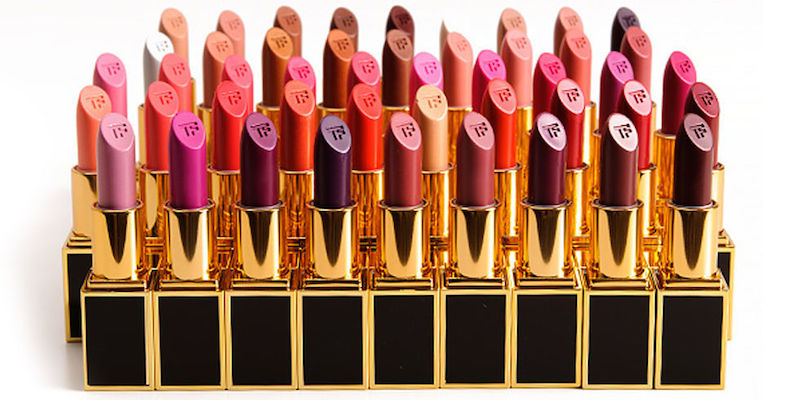 I have yet to meet a guy who doesn't complain about lipstick or gloss at one point or another. I went on the offense with the guy I'm dating now and mentioned this, and – of course – he was all, "you can wear whatever you want…you're perfect." Classic thing for a guy to say when you're in the early stages of your relationship, but the cynical side of me thinks it's only a matter of time before the tune changes! Lucky for him my lips are very pigmented, so most days these last few years, I don't opt for more than a blend of Blistex ointment
 and Blistex lip balm
(the one in the gold tube gives a slight, natural shimmer). It's not glam, it's not fancy, but it does the trick; cheap products are sometimes the best! When I do want color, my go-to is almost always Tom Ford. At this point, he has so many lipstick shades – especially now with the launch of his new Lips & Boys colors – that you can literally find anything you need to complement your look/complexion. Equally important, his lipsticks don't feel like lipsticks…they feel like a balm because they're so light and moisturizing. In fact, you can layer a gloss over one of the matte shades if you so desire.
If it weren't for Ford's lipsticks, I would only opt for gloss when I want some shine/color on my lips. The most important thing for me is that they have a brush applicator, which I find is the key to a smooth application. One thing to consider is that if you put something on your lips, you're going to end up ingesting some of it (Tom Ford's products have a great vanilla "taste"), which is why there's a growing market for organic lip products (even though how much lip product the average women ingests is widely debated). I'm not a regular user because the color selection simply isn't there, and I don't wear product on my lips often enough for it to be an issue. If that matters to you, however, check out Kjaer Weis and Vapour Organic Beauty.
What's important to you when you shop for lip products and what kind do you prefer? Tell us in the comments and vote in our poll if you're team lipstick or team lip gloss!