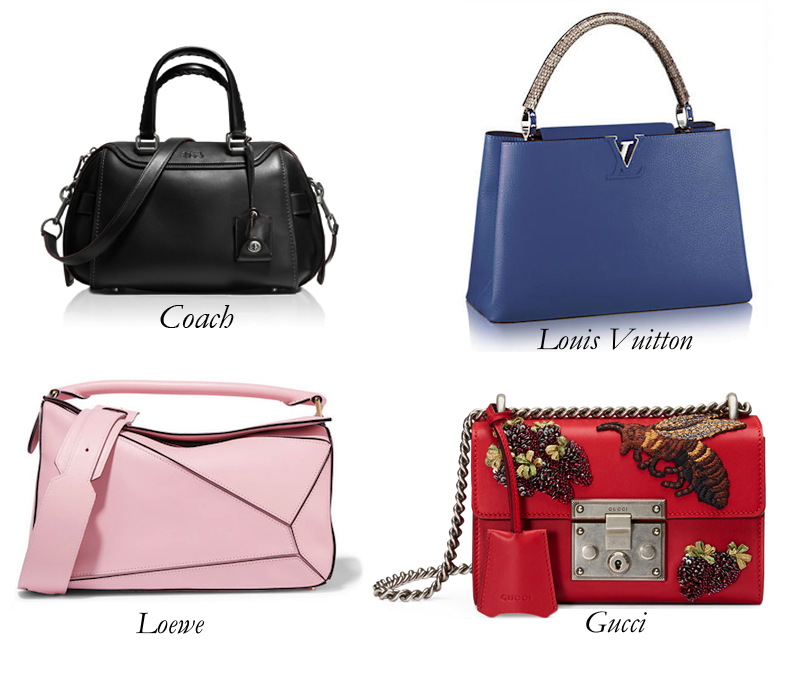 1. Most Improved
With 2015 comfortably behind us, we're looking forward towards a fresh year, at least for the most part. As awards season quickly approaches, it's time we take stock of the best, worst, and most memorable bags of the past year. Make your voice heard, and vote from now until Sunday, January 10th! The winners will be announced on Monday, January 11th. The fate of the brands is in your hands, perhaps literally.
The brand that revamped, refreshed, and revitalized itself in 2015, much to our surprise and delight!
The Nominees: Coach, Louis Vuitton, Loewe, and Gucci
Coach: Who would have thought I would be pining for all things Coach? If you'd told me that a few years ago, I would have called you crazy. Stuart, I blame you. Ace satchel
at Coach for $595.
Louis Vuitton: Thanks to Nicolas Ghesquière, the house of LV felt plenty of excitement. Much of it had to do with the new ways they incorporated the logo as part of their designs. Capucines MM at Louis Vuitton for $6,200.
Loewe: Loewe saw a subtler makeover than the rest, but it's a brand still deserving of recognition. With appealing new designs like the Puzzle, Loewe's far younger and edgier than they've been in seasons past. Puzzle small leather shoulder bag
on NET-A-PORTER for $2,350.
Gucci: My first designer bag was a Gucci. Now many years later, the brilliant Alessandro Michele is making me see a lifelong favorite through new eyes – and I can't wait to see more. Padlock small embroidered shoulder bag
at Neiman Marcus for $2,690.
2. Most Practical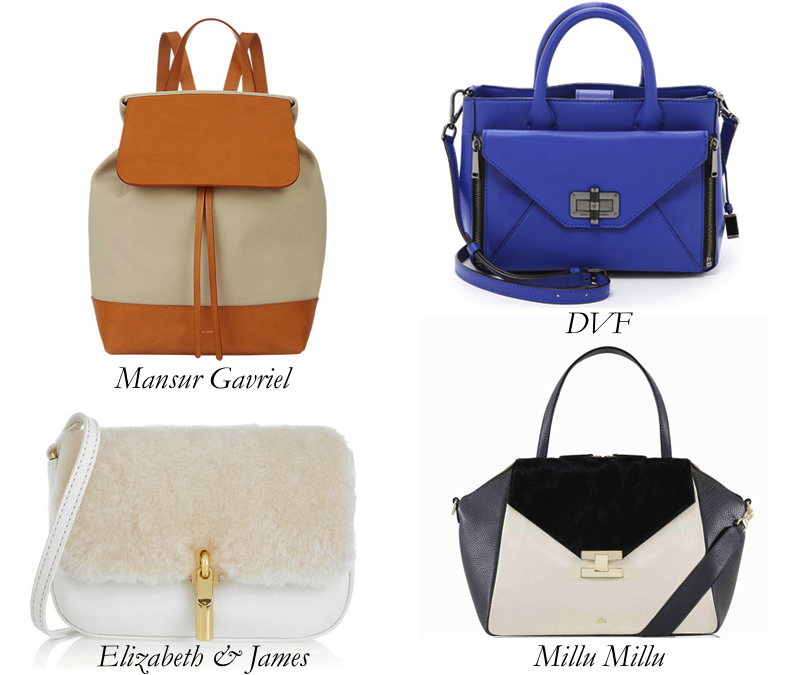 They might not be the most conversation-worthy pieces in your bag wardrobe, but it's almost guaranteed the bags that fit the functional bill are the ones that see the most use.
The Nominees: Mansur Gavriel, Diane von Furstenberg, Elizabeth & James, and Milli Millu
Mansur Gavriel: Has any brand shot to fame – and infamy, thanks to record sell-outs – as quickly and quietly as Mansur Gavriel? I think not. So what's their secret? Releasing them in limited amounts each season, they let the bags do the talking. Think quality over quantity. Large backpack
at Barneys for $695.
Diane von Furstenberg: It's no surprise the creator of the most practical wrap dress comes up with equally user-friendly bags. This year, Diane topped herself: What's more functional than a tote with a front pouch that doubles as a detachable clutch? 440 Gallery Secret Agent tote
on Shopbop for $398.
Elizabeth & James: Who says practical has to mean boring? If you're looking for sense and sensibility, look no further than the Olsens' good-looking and well-priced range. Cynnie Nano shearling and textured-leather shoulder bag
on NET-A-PORTER for $235.
Milli Millu: Made with ultimate organization in mind, Milli Millu is as smartly priced as it is smartly designed. Their bags come chock-full of useful pockets and compartments. The Chicago
at Milli Millu for $712.
3. Most Ridiculous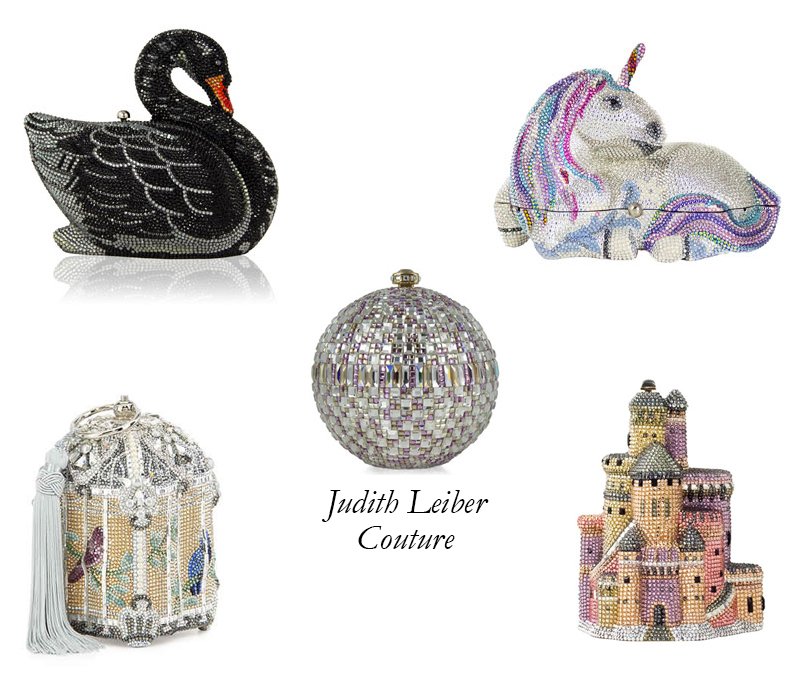 This is the category for those impractical yet often beautiful bags you would only consider if you've got loads of money to burn.
The Nominees: Judith Leiber owns this category so we will save you from voting. I mean, I want nothing more than to carry around a beautiful, sparkling unicorn or tiara all day myself, but each one fits a mere ID or a (folded) twenty dollar bill, and where does that get a girl?
Swan crystal minaudiere
(at Neiman Marcus for $4,995)
Unicorn crystal clutch bag
(at Neiman Marcus for $5,995)
New Sphere crystal minaudiere
(at Neiman Marcus for $3,995)
Birdcage crystal clutch bag
(at Neiman Marcus for $5,995)
Castle crystal clutch bag
(at Neiman Marcus for $5,295)
4. Most Nostalgic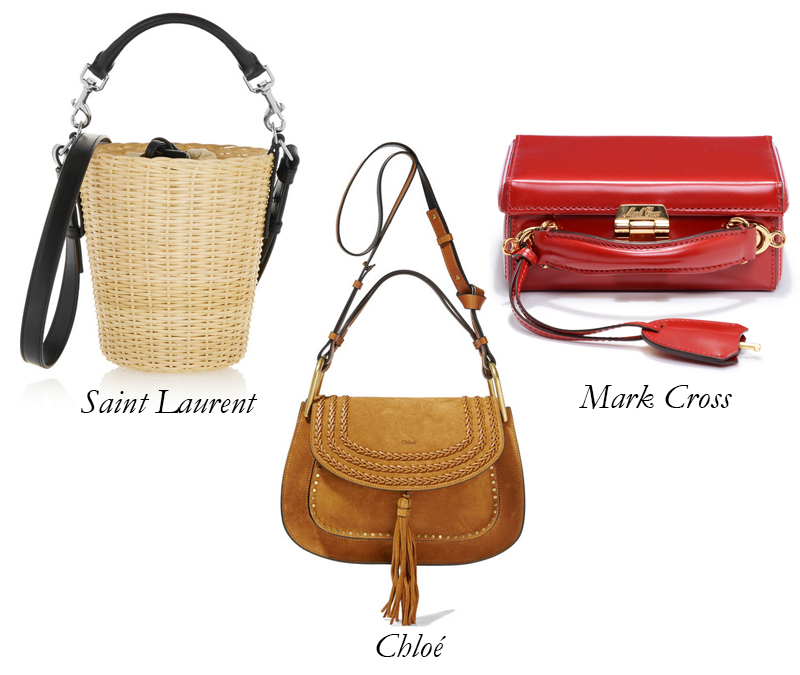 These are the labels you turn to when you crave a vintage throwback that doesn't look like you yanked it out of the attic and gave it the old dust-off. This is nostalgia with a properly-updated spin.
The Nominees: Saint Laurent, Chloé, and Mark Cross
Saint Laurent: When they want to, Saint Laurent harks back to the freewheeling '60s like no one else. Just think, this could have been called the Birkin had Jane seen it first. Panier small leather-trimmed bamboo shoulder bag
on NET-A-PORTER for $1,350.
Chloé: They've got you, babe! When it comes to the easy, breezy '70s, I think it's safe to say the Chloé girl knew Cher in her prime. Hudson whipstitched suede shoulder bag
on NET-A-PORTER for $2,190.
Mark Cross: Thanks to Grace Kelly, the '50s would not have been the same without Mark Cross. Well, over half a century later, their bags are equally classic. Grace Mini Box at Mark Cross for $1,995.
5. The One to Watch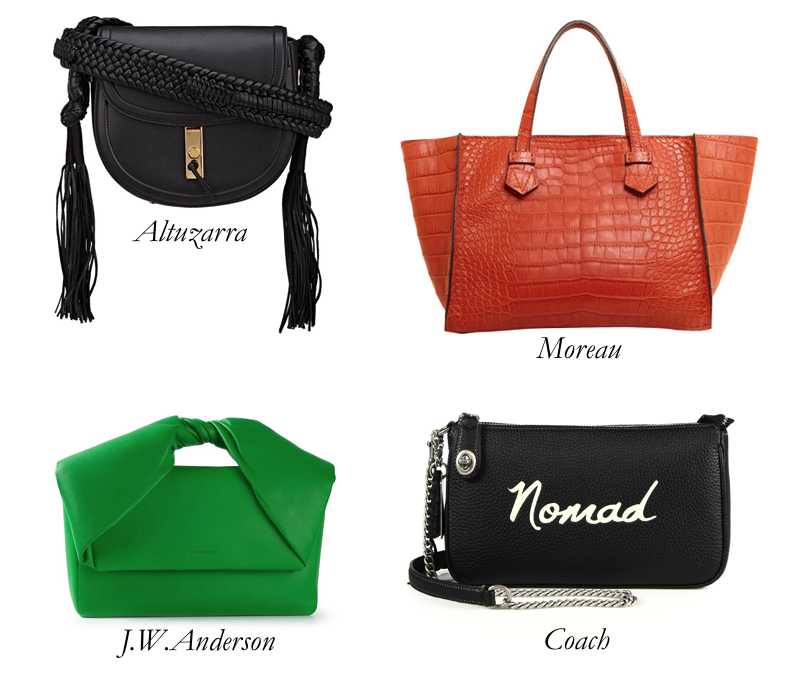 This category is devoted to the brands that showed plenty of promise in 2015 and will surely blow up in the coming year. Keep your eyes peeled while they bring it!
The Nominees: Altuzarra, Moreau, J.W.Anderson, and Coach
Altuzarra: You know the girl who effortlessly rolls out of bed and gets ready in five minutes flat? That's who we all want to be but odds are will never be, so I am thankful for Joseph. He helps make us make it look easy! Ghianda Bullrope small saddle bag
at Barneys New York for $2,995.
Moreau: With a flair for executing effortless yet incredibly luxe exotics, Moreau is a new contender that's well worth your attention. Croc Brégançon Zip tote
at Barneys New York for $24,000.
J.W.Anderson: Let's think far beyond the origami folds and the subtle leather twists. Judging from what J.W. Anderson is doing at Loewe, there are many more treats to be had from the British designer. Twist Knot clutch
on Farfetch for $1,388.52.
Coach: You think 2015 was good? Stuart Vevers is only getting started. Mark my words: He's making Coach into a most-wanted brand for the long haul. Nomad leather crossbody bag
at Saks Fifth Avenue for $275.
6. Biggest Attention Seeker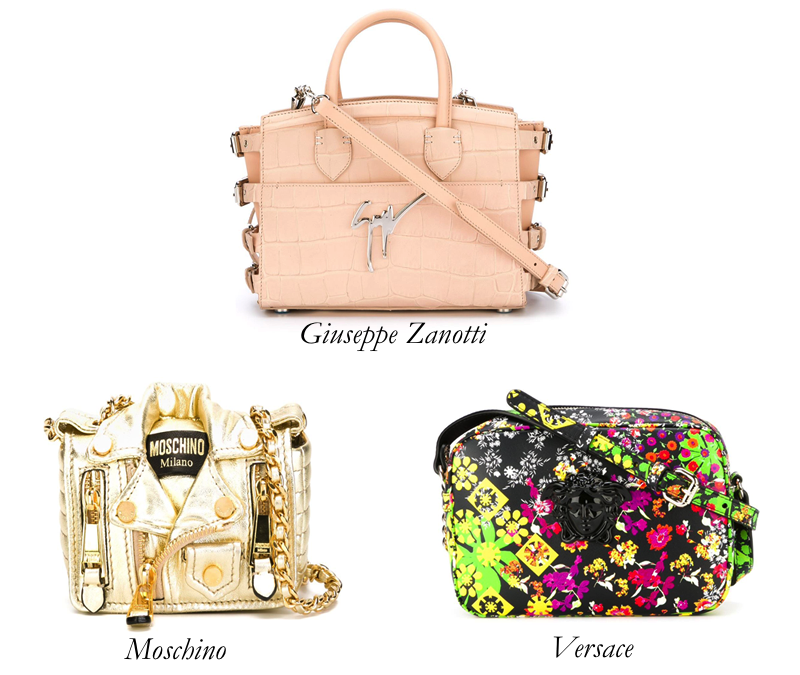 You guessed it: These are the brands that tried too hard. Whether going for attention-grabbing irony at every turn or being just a bit too unaware to be genuinely desirable, they need to take it down a notch and think design first in 2016.
The Nominees: Giuseppe Zanotti, Moschino, and Versace
Giuseppe Zanotti: Strangely enough (or not), I would love a pair of shoes with these exact same buckles. But a croc-stamped bag? No, thanks. Signature tote
on Farfetch for $1,251.13.
Moschino: Once in a while, a kitschy bag is a keeper. But sometimes we simply want to wear our biker jackets. This past year, Moschino took "camp" into the "I just can't" category. Biker crossbody bag
on Farfetch for $1,295.
Versace: You don't always get an A for effort. Sometimes it's for, "All right, enough!" Versace should give up on bags now and stick to what they know best: super-sexy dresses and crazy-cool fur. Medusa flower crossbody bag
on Farfetch for $757.31.
7. Biggest Underachiever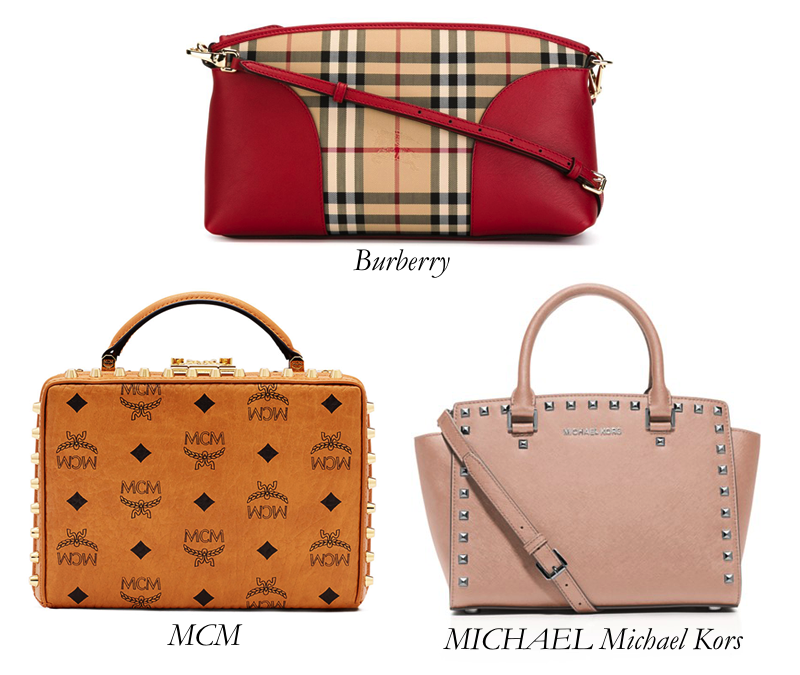 The bags by these brands are banal at best and perhaps worse yet, derivatives of current bestsellers from other houses like Valentino and Saint Laurent.
The Nominees: Burberry, MCM, and Michael Kors
Burberry: Don't get us wrong, we LOVE Burberry. But their supremely iconic plaid pattern could be put to better use than in this lazy take on a bag. Haymarket print shoulder bag
on Farfetch for $735.89.
MCM: If Gucci and Louis Vuitton can reinvent the logo into something neither banal nor offensive, then why can't MCM?! Berlin crossbody small Visetos bag
at Neiman Marcus for $1,295.
Michael Kors: Look familiar? This is a watered-down version of one of the most popular bags of the decade. Selma stud satchel
at Bloomingdale's for $328.
8. Miss Congeniality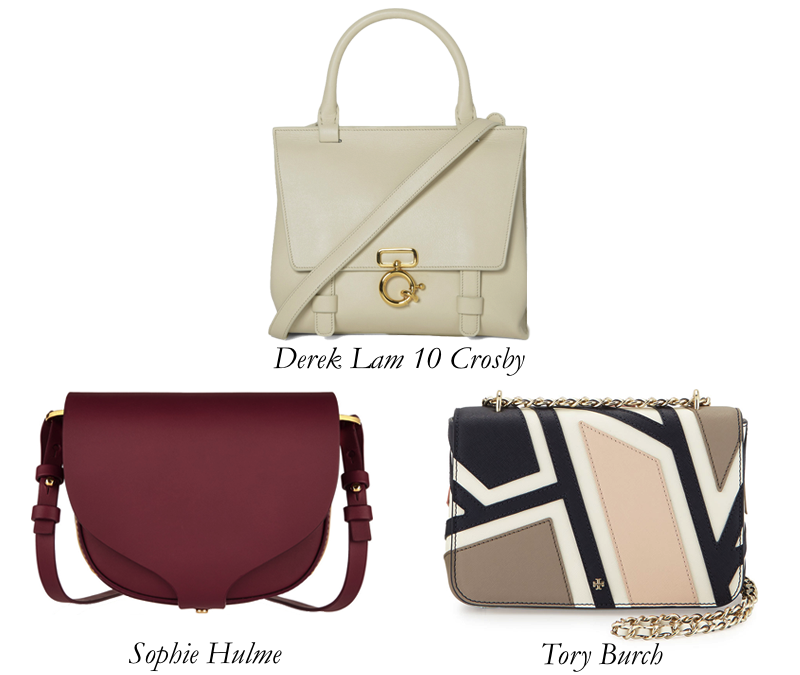 Forget Sandra Bullock in the 2000 film. We all know Miss Congeniality: She's sweet, inoffensive, and nobody has a bad thing to say about her, for good reason. She's a fan favorite!
The Nominees: Derek Lam 10 Crosby, Sophie Hulme, and Tory Burch
Derek Lam 10 Crosby: The little sister of his higher-end line, 10 Crosby is as elegant and unassuming as Derek himself. Just make sure you take your martini shaken, not stirred. Mini Ave A top handle crossbody at Derek Lam for $650.
Sophie Hulme: With clean lines, just kind enough prices, and touches of spunky hardware, Sophie Hulme is the nice girl next door of bags. Barnsbury mini leather shoulder bag
on NET-A-PORTER for $495.
Tory Burch: THIS is how it's done. Props to Tory Burch for achieving the near-impossible: Beautifully-polished bags at inoffensive prices. Robinson Fret patchwork shoulder bag
at Neiman Marcus for $495.
9. Most Adventurous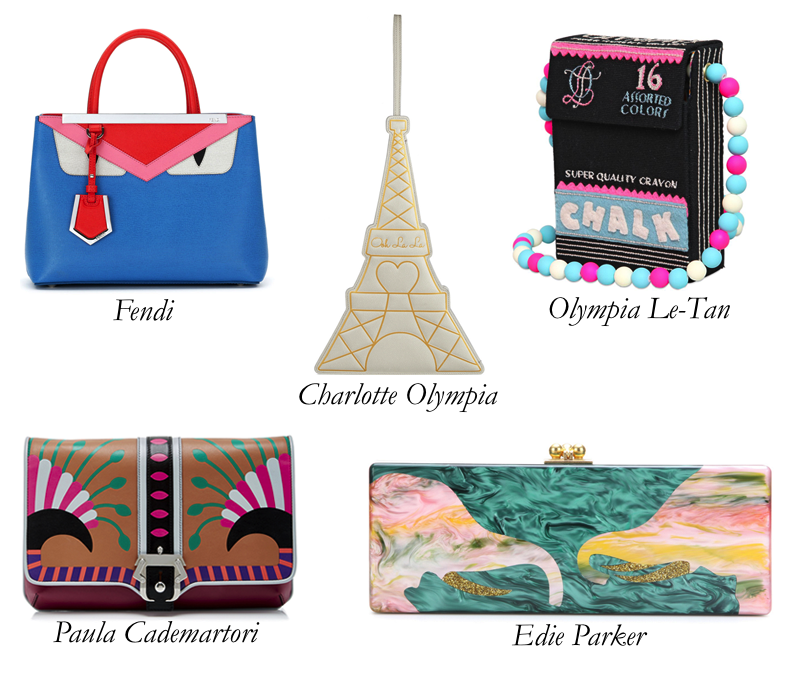 Up for anything and everything: If these labels were people, they would be the wild-child friends you turn to when you want to have crazy-good time…Emphasis on crazy. Here are the top risk-takers in the business:
The Nominees: Fendi, Olympia Le-Tan, Charlotte Olympia, Paula Cademartori, and Edie Parker
Fendi: I'm not one bit sorry to admit I have fallen prey to the Fendi Monster craze. Sometimes it's best not to take ourselves too seriously, as Karl well knows. Monster Petite 2Jours tote bag
at Neiman Marcus for $2,250.
Olympia Le-Tan: Okay, so a box of Crayolas is probably not your idea of chic, but in hand-stitched, resin bead-topped form, it's imaginative and fun. If more than slightly ridiculous. Chalk Box hand embroidered shoulder bag
on Luisa via Roma for $823 (from $1,177).
Charlotte Olympia: You just never know where Charlotte Olympia will take you. Sure, sometimes you may not want to go there, but she teaches us a valuable lesson: It's the journey that counts. Ooh La La textured-leather clutch
on NET-A-PORTER for $270 (from $670).
Paula Cademartori: A big dose of quintessentially-Italian whimsy and a vivid love of color make Paula one of our favorites, even if carrying one of her bags means we have to restrain the rest of our outfits. Sylvie detailed shoulder bag
on Moda Operandi for $1,450.
Edie Parker: I can never get enough of Edie Parker's capriciously-fun clutches! It's continually enlivening to see retro-classic box clutches turned totally on their heads. Flavia Trunks box clutch
on My Theresa for $1,495.
10. Best All-Around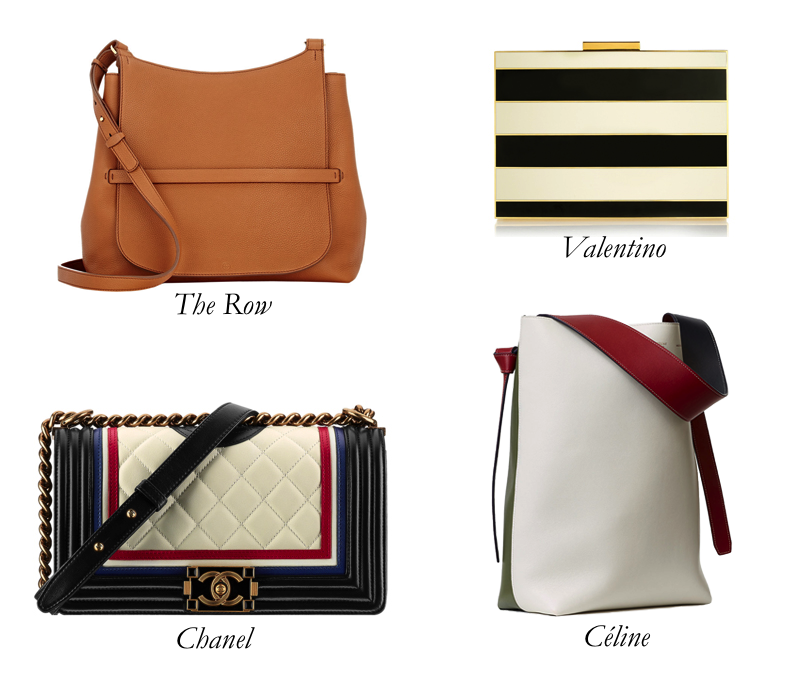 From general design to mass appeal to the ability to create an it-bag, these brands nailed their bags for the duration of 2015.
The Nominees: The Row, Valentino, Chanel, and Céline
The Row: If you're looking for attention-getting, clown-like details, please look elsewhere. The Row is my go-to for classic, perennially-chic bags. In other words, they represent the antithesis of the street-style bag. Sideby shoulder bag
at Barneys New York for $2,550.
Valentino: From Rockstuds (officially the most copied bag of the decade!) to chic hard-box clutches that actually fit the essentials, Valentino gets it right every time, and they've got a stylish sense of humor to boot. Striped enamel and gold-tone box clutch
on NET-A-PORTER for $3,045.
Chanel: Putting Chanel in a category for bag awards is like putting Meryl Streep up for Best Actress: Everyone else can go home. But seriously, the aesthetic range of Chanel's bags projects more personalities than Sybil, while Chanel is anything but schizophrenic. We love every well-executed incarnation. Lambskin Boy Chanel flap bag
at Chanel for $4,900.
Céline: One could argue many current bag styles are mere derivatives of Céline bags, but then again, one could contend their bags are just shadows of Hermès'. Let's not get nasty here, though! Céline is one of our favorites time and again, simply because carrying their bags is the next best thing to having Phoebe as a BFF. Small Twisted Cabas at Céline for $2,200.