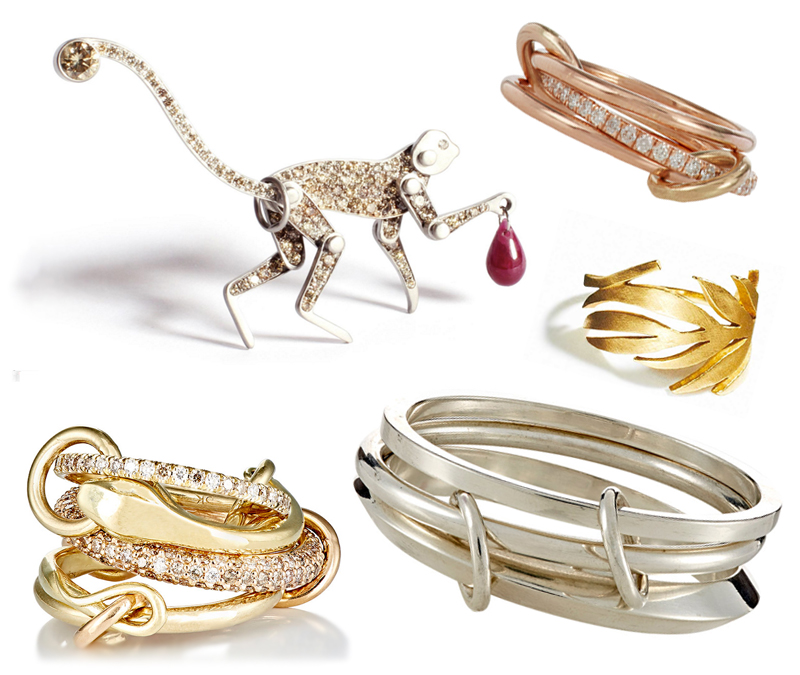 One thing that Marc Alary and Yves Spinelli both have is a creative, relaxed air of class. Walking into the recent launch of their collabo-collection was like walking into a private party of New York's chicest crowd, because it was. A room of black-garbed goddesses was punctuated by one head of blue hair and the omnipresent pink dots on Lynn Yaeger's cheeks.
After being welcomed into the private home event with a glass of bubbly, everyone hovered around the glass boxes holding the latest from each Alary and Spinelli, as well as the new collaboration between the two gents. This very-balanced melding of their two styles is titled MASK, a conveniently mysterious melding of their initials. The collection focuses on the signature Spinelli multi-finger ring and the animalia of Mr. Alary, specifically the snake.
As a longtime jewelry junky with a gypsy-like life, I can't have a crow-like tactic when it comes to purchasing; everything needs to be classic, intriguing and wearable in many scenarios. While being attracted to tribal and native jewelry, as well as the works of the great high jewelry maisons, I find that wearing an African-beaded chest plate doesn't quite work for aprés work cocktails, just as a waterfall of Van Cleef diamonds feels exorbitant on the subway to get groceries. I want jewelry that bridges this gap, providing a handcrafted work that has edge and refinement but also versatility.
Alary's approach to jewelry is mischievous, kinetic and has a sense of humor. His pieces show excellent craftsmanship with attention to the minute details of the attitude that one expects out of each creature he transforms into a piece of adornment. From the playfulness of his monkeys to the ominous teeth of the crocodile, he gives a little personality to each.
What Alary provides in humor, Spinelli provides in structure and allegory. The names and colors of several of his pieces relate to a constellation, each having their own mythological tale. For example, the Vega Ring is named after the second-brightest star in the Northern Celestial Hemisphere. Depending on which history you read, the story of this star varies, but for the Roman Empire, the moment this star went beneath the horizon autumn began.
From my perch at the show, I gathered that the crowd favorite was a combination of the Galaxy ring from Spinelli Kilcollin and a lifelike pavé snake head from Alary, making the multi-finger ring appear as the coil of a pet along for the ride. Creatively, these two men have seamlessly blended their respective fortes into a successful and beautifully-wicked little collection. For those of you who like fine jewelry with a bit of edge, this collection is sure to be on your radar in 2016! MASK available at Barneys
.