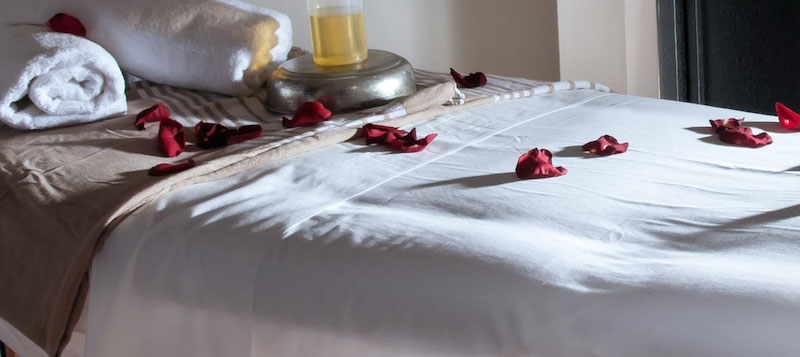 You might have heard about high-intensity interval training (HIIT). They say it's the most effective way to work out because not only do you build muscle and burn fat quickly (compared to other training methods), but you burn calories for hours after the workout is done. Why? There's an increased oxygen demand in your body that lasts long after the workout, leading to continued calorie and fat-burning for up to 48 hours after. Steady-pace workouts just don't trigger the same response for this type of continuous burn.
Turns out, I had the same experience at the spa at The Efendi Hotel, a boutique hotel in the northern coastal plains of Israel. Normally I have a spa treatment, and it feels great and relaxing…all of those wonderful things; but as soon as I leave and enter the real world again, my aches and pains are back. Not so with the treatment there. My spa treatment not only involved relaxation, but it involved active stretching since the therapist could tell I was sore and tight from running. She completely opened up my body, and I felt the benefits for days after the treatment. While you'll experience this if you do regular treatments, the really remarkable thing about the hotel's spa is their hammam (seriously it's amazing; there's a reason this was on my Valentine's Day wish list!).
If you haven't heard of a hammam – also known as a turkish bath – it's an ancient bathing ritual with Roman roots. While it's popular in the Middle East (though rarely as luxurious as at The Efendi Hotel), it's finally becoming available in the US thanks to places like Aire Ancient Baths. You'll also find it at the Spa at Trump SoHo, and the Grand Hotel Tremezzo just added a hammam to their spa, which was recently re-opened in November after a renovation. The detoxifying treatment is meant to bring the whole body to a state of balance and well-being, while also leaving your skin smooth. Another worthy mention is The Mayflower Grace Spa. They've created a treatment called Red Flower Hammam Ritual based on the skincare practices of the hammam bathhouses. This combines heat, aromatherapy, steam, and mud to cleanse the skin to open up the pores and promote the body's detoxification process.
While the ritual varies from place to place, it usually begins with exfoliation via dry brushing and/or scrubbing. A clay mask is then applied to draw out impurities. Afterwards, you relax in a hot steam to soften the clay, which opens the skin's pores, releasing toxins, bacteria, and other impurities. The heat also works to dilate the blood vessels, causing an immediate boost in circulation (this is why athletes tend to love hammam treatments) and soothing inflated or irritated skin (so unlike many treatments, this one is actually great if you have acne or bacne).
Again, the area will vary from place to place, but at The Efendi, the ritual is performed on a warm platform in a marble-lined room; and they sprinkle hot and cold water on the body throughout the treatment to further boost detoxification and help "clean out" (the treatment is recommended for those who have lingering colds, as it can help get rid of excess mucous and toxins). So next time you're looking for some ME time, skip the traditional Swedish massage and opt for this ancient bathing ritual. I can guarantee you won't regret it!