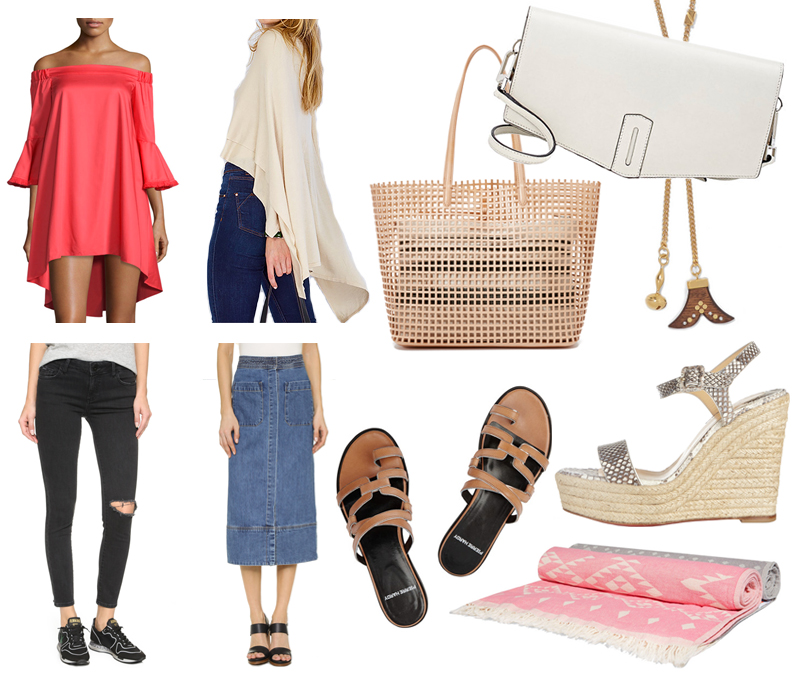 It might sound crazy, but you can go on a long weekend trip with everything comfortably packed in a small 22" carryon and still look perfectly cute every day – with only 10 things. Packing smart is different from packing light. You can pack light by wearing the same things every day and looking like you badly need a shower as a result. But packing smart means looking amazing at every single moment and making it seem like you have your entire wardrobe with you.
1. N Nicholas Off-The-Shoulder High-Low Cotton Dress:  This is the perfect versatile dress that will go from pool to lunch to sightseeing to dancing. The activity all depends on your accessories. Always pack bright dresses for travel because you don't want to be drab in all your photos. As a rule, keep the bottoms neutral and the tops spectacular! At Neiman Marcus for $395.
2. Hammamas Set of Two Printed Woven Cotton Towels: You might think it's strange to bring towels when you're trying to pack minimally, but these aren't just towels. One functions as a cozy blanket on the plane, picnic blanket when you need it, and beach blanket on the sand. Use it to cover up a gross bench when you want to sit, and yes, it's also a towel. Of course, your hotel pool has towels, but I use this to cover my lounge seating because it's just so much nicer this way. You will find countless ways to use your own featherweight towel. Just trust, obey, and travel with it. On NET-A-PORTER for $140.
3. Chloé Gold-Plated Wood Necklace: I no longer travel with a heavy, burdensome jewelry bag. You only need one necklace, and this knotted gold piece is it. Besides, you know you're going shopping, and my favorite thing to buy on a trip is jewelry. There's always so much more character in the jewelry you buy abroad, and it's easy to pack! On NET-A-PORTER for $655.
4. Free People Just A Dream Skirt:
We all know jeans are versatile, so I don't need to tell you to bring jeans on a trip. Consider the denim skirt. It's way more expansive in the summer, when you can pull it on over a bathing suit and you've instantly got a real outfit on. Wear it with a tank top for day and gorgeous top
at night, like an über-trendy off-the-shoulder style. On Shopbop for $148.
5. Dl1961 Margaux Ankle Skinny Jeans:
The jeans you do need to bring along for travel are always a pair of DL1961s. They're so comfortable you can sleep and lounge happily on a plane for 14 hours in them. Trust me, I've done it many times. The stretch never distorts so you have perfectly-fit jeans for going on and looking sharp once you've landed. On Shopbop for $178.
6. Echo Solid Reversible Ruana: Always travel with a wrap. It fast becomes your favorite thing on the plane, evening strolls have never been cozier with one, and lounging around a fire with cocktails in the evenings demand a wrap like this! You can basically wear pajamas underneath and pull this on to look like you own it! Like I do when I run down to the lobby for coffee in the morning. On Echo for $58.
7. Loeffler Randall Perforated Beach Tote:
This bag is perfect for travel. It's incredibly cute and lightweight, and the fact that it comes with a large (and neutral striped) canvas pouch means it's the perfect carryon tote for all your travel needs. This same bag can go poolside or to the beach, and it won't bring back any sand, thanks to the perforation. On Shopbop for $495.
8. Byredo Bindu Small Clutch: When it comes to your bag, you want a clutch-to-crossbody in a soft white that knows no bounds. The unusual shape does all the required screaming; the rest exudes quiet luxury you'll love more and more each time you use it. That sleek shape disguises the roomy interior, and it comes with a detachable strap. This and a tote is all you ever need for travel. It's also flat and easy to pack. At Barneys New York for $1,450.
9. Christian Louboutin Spachica 120 Python Espadrille Wedge Sandals: These look high, but the platform and wedges make them wearable. A natural python will go with anything. This will be the only big thing you pack, but don't worry: These sandals are worth it. On NET-A-PORTER for $895.
Or if you prefer flats, opt for Paul Andrew's Rhea Suede Wedge Espadrilles, which are sophisticated enough to be dressed up for evening. On NET-A-PORTER for $395.
10. Pierre Hardy Kaliste Leather Sandals: Comfortable, effortless, beautiful sandals are key. Don't fall back on flip-flops. Yeah, they're easy, but they're also sloppy. These are what I call super-slippers. They go with dresses as easily as shorts, high to low, day to night. On NET-A-PORTER for $795.
I'm neglecting other things like your tanks, tees, underthings, PJs, and toiletries, but these pieces here comprise your main looks. For tanks, there's nothing better or softer than Splendid's Layers tanks
(on Shopbop for $48). And sure, throw in flip-flops, if you must. Once you pack everything, you will be surprised by how much room you have left.
Getting on the Plane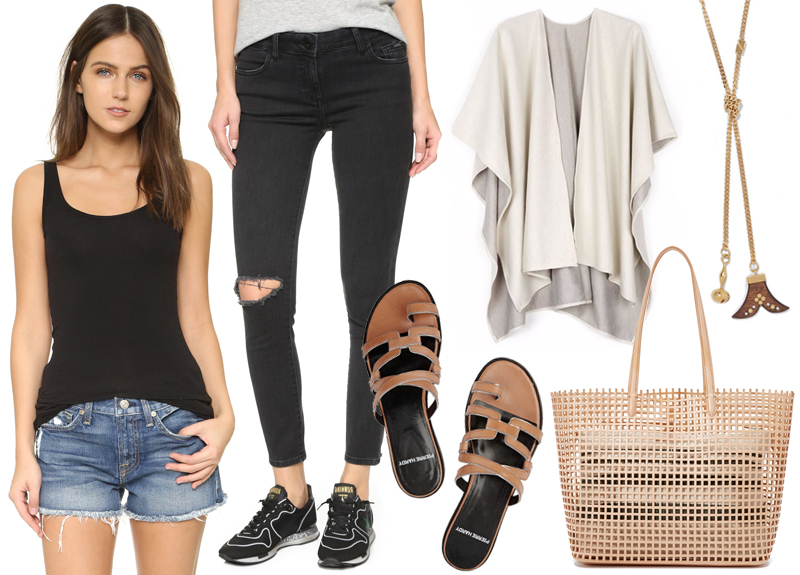 Shopping and Sightseeing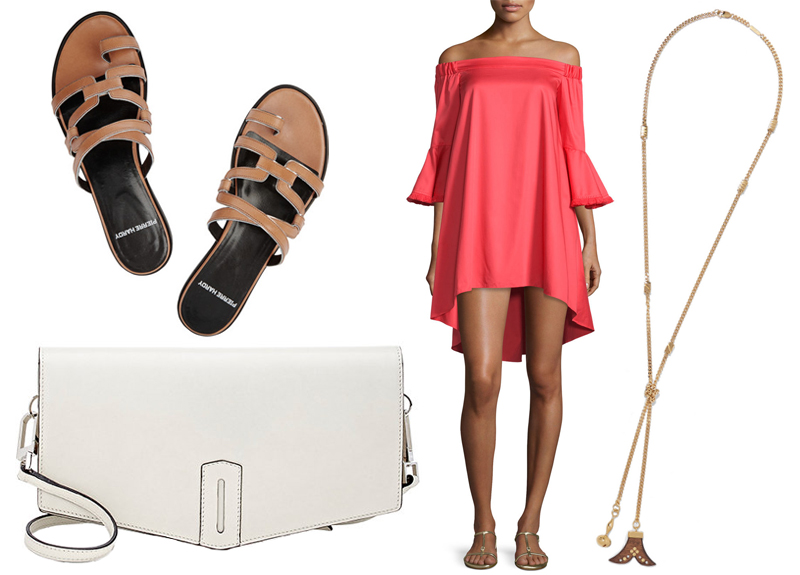 Lunching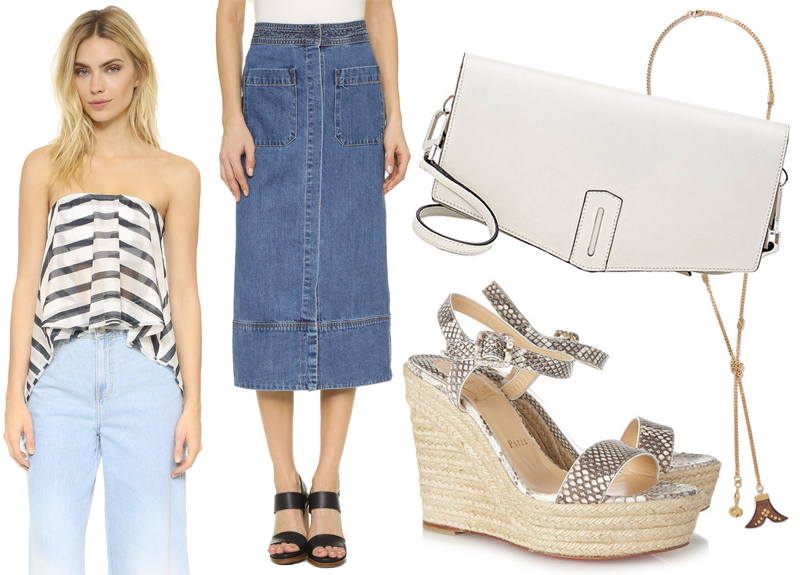 Lounging by the Pool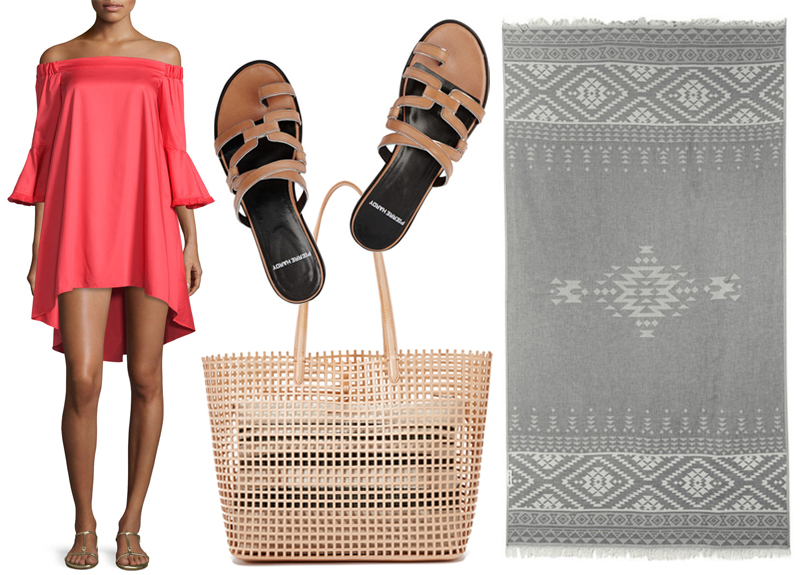 Day to Night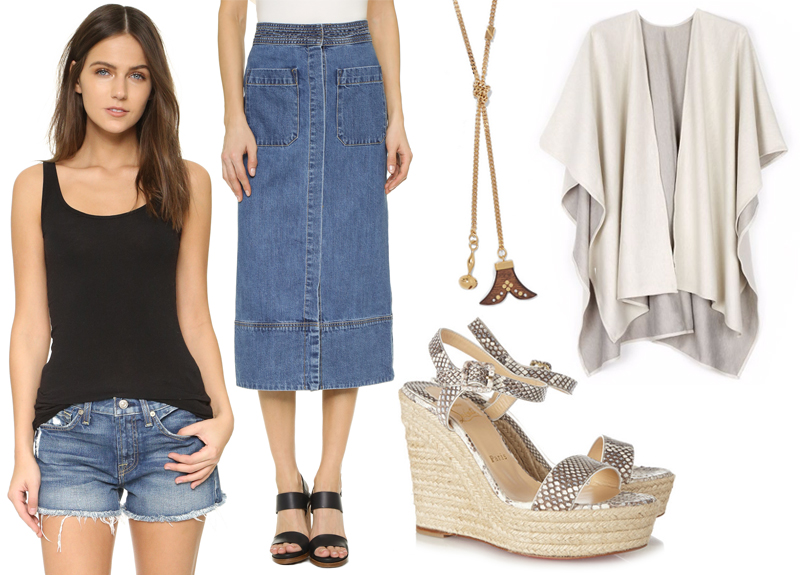 Dinner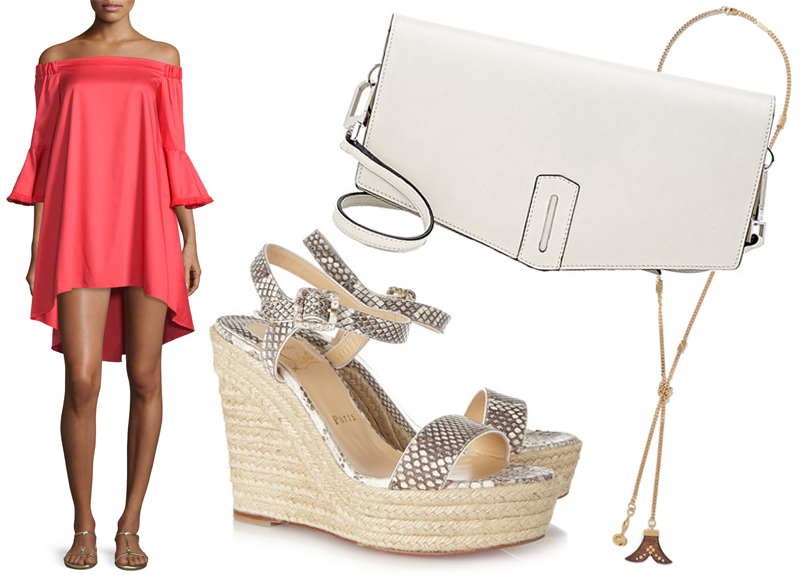 A Night Out