Looking for an alternative to oatmeal, cereal, or an Americano? So were we, so we turned to some of the country's leading wellness experts and asked them to share with us their favorite to fuel for a long day. Here's a look at nine awesome recipes to make now!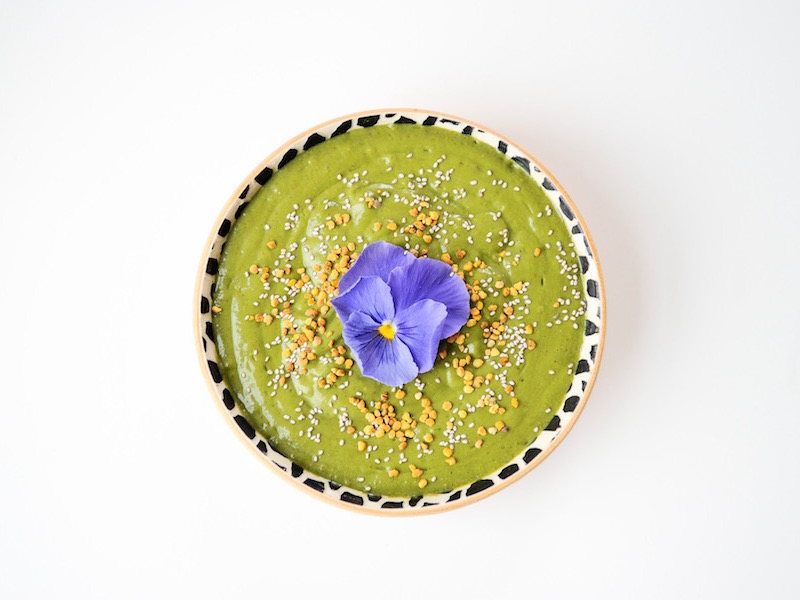 Glowing Green Mermaid Smoothie Bowl: Annie Atkinson, Founder of She's In The Glow
"Smoothie bowls are not only fun and super easy to make, but they are filled with all of the healthy fats and essential vitamins you need to sustain a healthy mind, body, and beautiful glow."
For the base:
1 cup unsweetened almond milk
1 ripe banana
2 large handfuls spinach
½ cup frozen strawberries
1/8 ripe avocado
1 scoop pure unsweetened almond butter
1 teaspoon Moon Juice Brain Dust
1 teaspoon flax seeds
1 teaspoon bee pollen
1 teaspoon white chia seeds
For decoration:
A few pinches white chia seeds
A few pinches bee pollen
Edible flowers (for added magic)
Blend until smooth. Sprinkle with white chia seeds, bee pollen, or anything else you might have on hand. Carefully place the edible flowers. Serves one.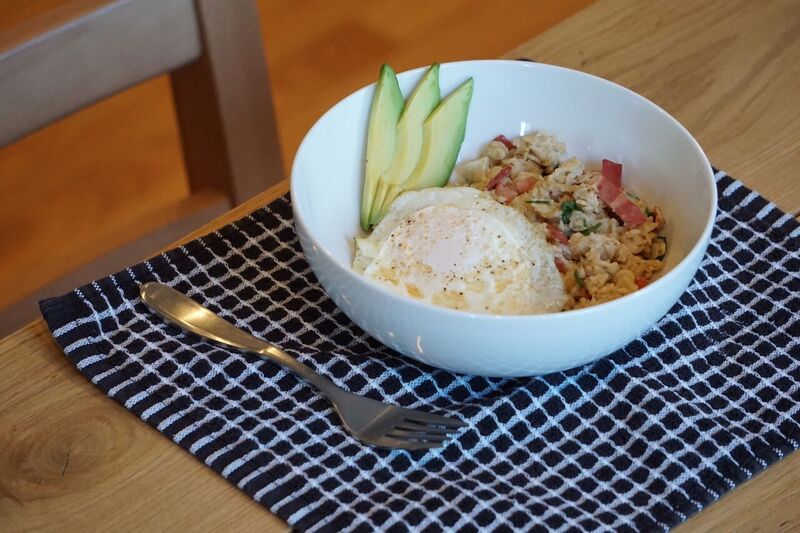 Savory Oatmeal: Shalisa Pouw, Senior Master Teacher Trainer at Pure Barre
"I love this dish because it helps you to resist the urge to add a bunch of sugar to those nutrient-filled oats! It has the classic flavors of a BLT and is loaded with fiber and protein to keep you feeling full and fueled for your busy day."
2 cups water
1/4 teaspoon salt
1 cup rolled oats
3 strips turkey bacon, chopped
1/4 cup tomatoes, chopped
1/4 cup spinach, chopped
2 teaspoons olive oil
2 eggs
In a medium-low pan, cook the turkey bacon, flipping when necessary for nine-11 minutes until crispy. Transfer to a separate dish. In a small pot, bring water and 1/4 teaspoon of salt to a boil. Add in the oats and reduce the water to a simmer. Cook, uncovered, for five minutes until the oats are cooked, and all of the water has been absorbed. Meanwhile, chop the turkey bacon, tomatoes, and spinach. Remove the oatmeal from heat and stir in the cooked turkey bacon, diced tomatoes, and chopped spinach. In a small frying pan, heat two teaspoons of olive oil over medium to low heat. Add in the two eggs. Cook, flipping once, for about two to four minutes. Transfer the oatmeal to two bowls, and top each with an olive oil-fried egg. Season with salt and pepper and serve! Serves two. You can also check out these 3 Fun Oat Based Recipes Both Savoury and Sweet.
Peanut Butter and Jelly Breakfast Bowl: Melvin Major Jr., the juicing guru behind Melvin's Juice Box
"I love the PB & J smoothie we serve at Melvin's Juice Box, which is why I like to deconstruct it and enjoy it as an alternative breakfast option. Each ingredient offers a number of health benefits without compromising taste. Hemp granola contains essential amino acids; blueberries are extremely high in antioxidants and are beneficial for heart health; bananas are high in protein, potassium, manganese, and b-6; rice milk adds a natural sweetness and is a great alternative to regular milk; peanut butter has healthy essential fats; and strawberries are considered a superfood and an immunity booster, helpful for weight management, among many other health benefits."
3/4 cup strawberry hemp granola
3/4 cup blueberries
1 banana
3/4 cup rice milk
1 tablespoon peanut butter
Combine the ingredients. Serves one.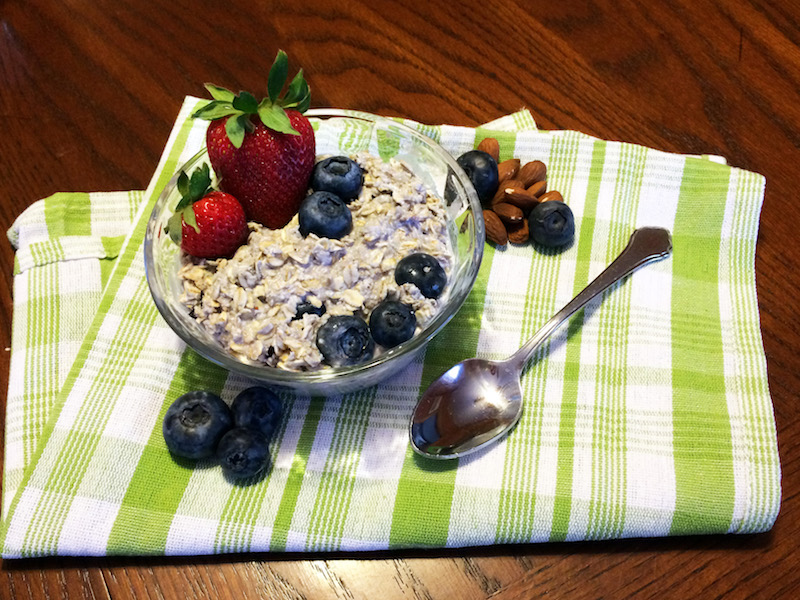 Bliss Overnight Oatmeal: Bakery On Main
"This is a healthy and nutritious way to fuel any morning!"
1 cup rolled oats
1/2 cup frozen blueberries
1 cup refrigerated coconut milk
1 teaspoon vanilla extract
1 tablespoon maple syrup (or more to taste)
pinch salt
Place all of the ingredients into a jar and stir to combine. Let the jar sit overnight in the refrigerator. In the morning, open the jar, give it a quick stir, and top with fresh berries, nut butter, or cinnamon-sugar. Serves one.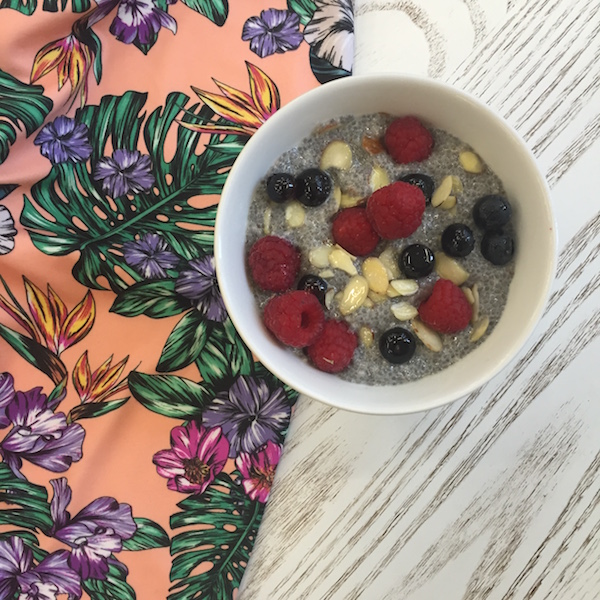 Almond Chia Seed Breakfast Bowl: Tamara Hill-Norton, Sweaty Betty Founder and Creative Director
"I love this breakfast bowl as it's really quick and easy and takes just five minutes to prepare. Chia seeds are a great superfood, packed with fiber, protein, and omega-3 fatty acids it gives me the energy I need to start the day!"
2 cups almond milk
2/3 cup chia seeds
2 tablespoons unsweetened coconut flakes
½ teaspoon vanilla extract
2 teaspoons sliced almonds
Fruit of choice
Stir the almond milk and chia seeds together until they create a thick consistency. Add coconut flakes, vanilla extract, and sliced almonds and stir in. Pop into the fridge for at least 20 minutes or overnight. Top with fruit before eating. Serves four to six.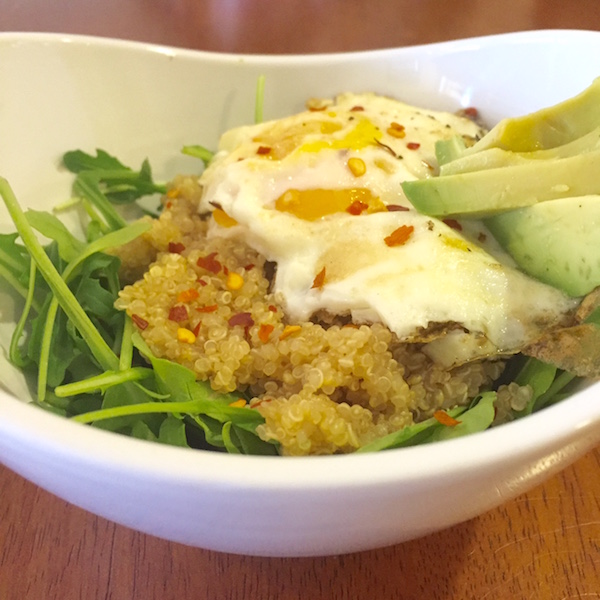 Breakfast Bowl: Jackie Dragone, Director of Barre at FLEX Studios
"Breakfast really is the most important meal of the day; you wouldn't be able to drive a car without gas, so how can you function without the proper fuel? This savory breakfast bowl includes quinoa, avocado, arugula, and one fried egg on top. The blend of complex carbs, healthy fats, and protein sustains me throughout my active mornings. The best part is it takes no time at all to make. Bonus: If you precook a lot of quinoa Sunday evening, you can enjoy this treat all week for just five minutes of prep time in the morning!!!"
½ cup cooked quinoa
½ avocado
2 cups arugula
1 fried egg
Combine. Serves one.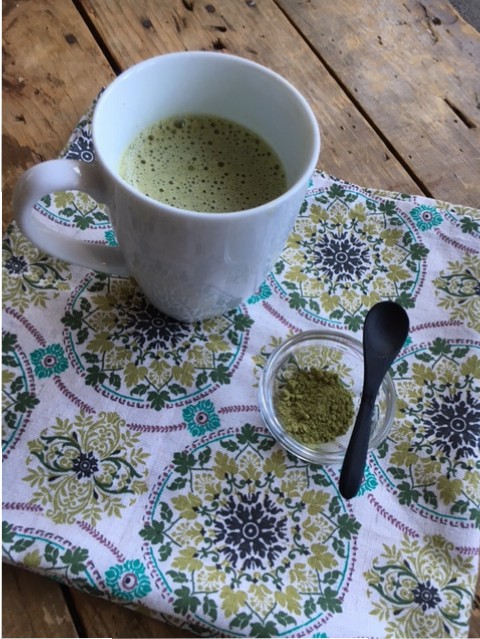 Maca Matcha Latte: New York City nutritionist Nikki Ostrower
"This is a stimulating, energizing, and mood-boosting coffee alternative with no crash."
1 tablespoon matcha powder
1 tablespoon maca powder
1/2 cup coconut milk
1/2 cup water
Heat the water and coconut milk. In a blender, add the hot water, coconut milk, maca and matcha, and blend for 10 seconds until nice and frothy. Serves one.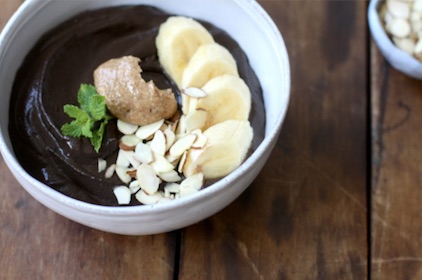 Dark Chocolate Almond Smoothie Bowl: Food and nutrition expert Candice Kumai
"This is a delicious, clean, and simple way to start the mornings in one simple bowl."
1 ½ frozen bananas (or 1 whole avocado)
¼ cup whole natural almonds
¾ cup kale with stems removed, chopped
3 tablespoons unsweetened Dutch (dark) cocoa powder
¼ teaspoon ground cinnamon
¾ cup unsweetened almond milk
1 scoop pea protein powder (optional)
Spirulina powder (optional)
Options toppings: almonds, mint, coconut, banana, almond butter
Combine all of the ingredients in a blender and blend until smooth. Serve and divide the smoothie mix immediately into two serving bowls and decorate with your choice of toppings. Serves two.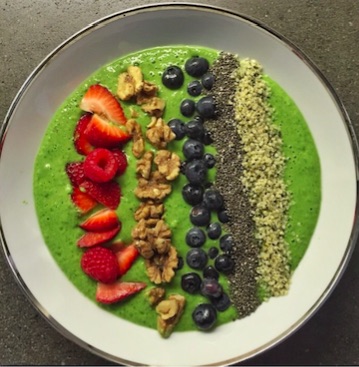 Breakfast Bowl: Rebecca Kennedy
"This is the perfect breakfast for an active day!"
Spinach
Kale
1/2 Granny Smith apple
1/2 avocado
1/2 cucumber
1/2 can Taste Nirvana coconut water with pulp
2 tablespoon Wallaby 0% Plain Greek Yogurt
Toppings: chia seeds, hemp seeds, walnuts, blueberries, strawberries, raspberries
Prep, blend, top, and enjoy! Serves one.
Photo Credit: Madeline Wolf