Okay, okay…I know using healthy and cocktail in the same sentence is a bit of an oxymoron, but with the rise in health and fitness awareness, the options for cocktails that won't totally mess with your diet are growing fast. Be Mixed, for example, is an all-natural, zero-calorie cocktail mixer ($33 for a pack of 12) that was launched last year by two female 29-year-old Harvard Business School graduates who were tired of settling for vodka sodas, while Fruits and Wine is a low-cal French rosé (they just launched three new flavors: Cherry Rosé, Grapefruit Rosé, and Strawberry Rosé). Hoping to get a bit more creative? For those looking to flex their mixology muscles, I turned to some of the country's leading experts and asked them to share their favorite "healthy" cocktails for spring! If these don't get you excited for the beach and sunshine, I can't imagine what will.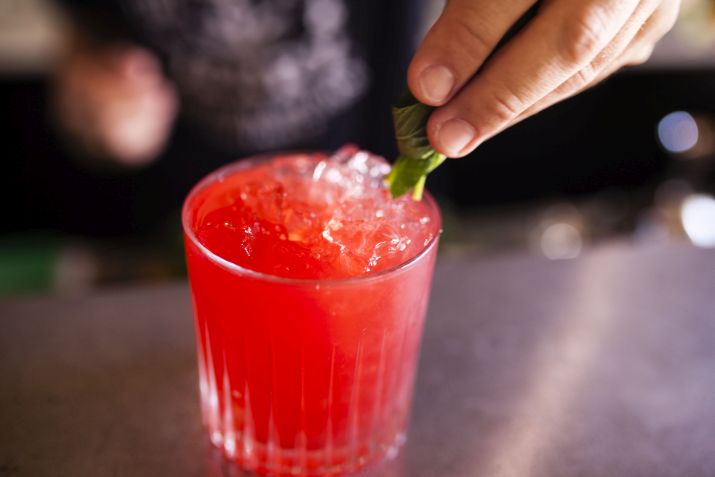 Watermelon Campari: Hotel Montefiore
• 40 ml of Campari
• 20 ml of freshly-squeezed lime
• 20 ml of blood orange liqueur
• 20 ml of watermelon extract
• 1/2 cup of diced fresh watermelon
• 1 slice of watermelon garnish
• 8 fresh mint leaves
Crush the watermelon and mint in a shaker. Add ice cubes and all of the ingredients and rattle well. Get a low ball glass, fill it with crushed ice, and pour the cocktail through a strainer. Decorate with mint and a slice of watermelon.
Healthy Margarita: Angela Mader, founder of fitlosophy
• 2 oz of jalapeño-infused tequila
• Fresh-squeezed juice from 1 lime
• 1/2 oz of agave nectar
• A splash of pineapple juice
• A piece of thinly-sliced jalapeño
Combine all of the ingredients in a cocktail shaker and shake well. Rim a margarita glass with salt or stevia. Pour on the rocks and garnish with lime.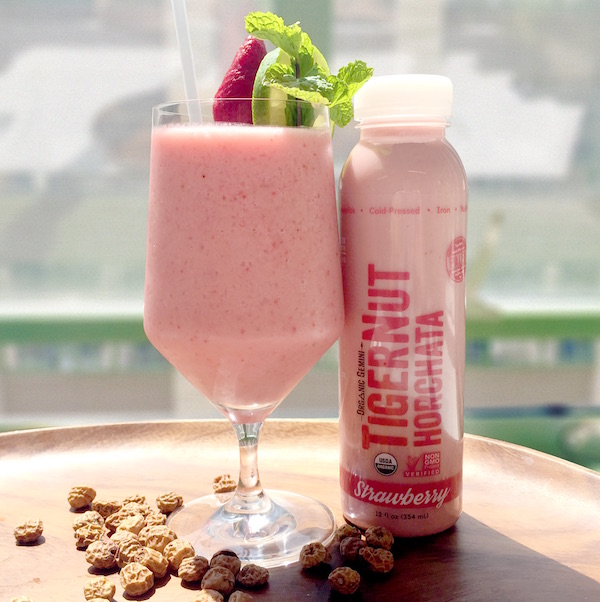 Healthy Strawberry Caipiroska: Organic Gemini TigerNut
• 1/2 of a lime, cut into quarters and squeezed
• Strawberries
• 1 oz of vodka
• Ice
• 1 cup of Organic Gemini Strawberry TigerNut Horchata
Blend the Strawberry TigerNut Horchata with ice. Add the vodka and enough ice to fill the glass. Garnish with the reserved strawberries.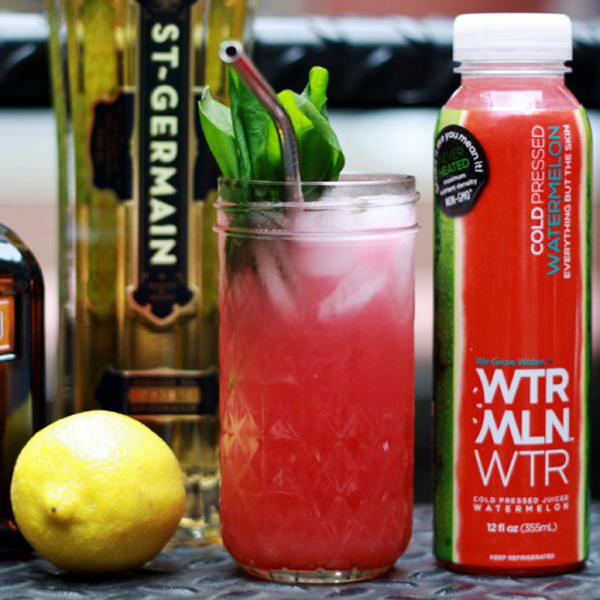 Melonita: WTRMLN WTR
• ½ lime
• Several basil leaves
• 1 tsp of coconut sugar
• .25 oz of St. Germain
• .25 oz of Cointreau
• 5 oz of blanco tequila
• Salt
• WTRMLN WTR
Muddle and strain ½ lime, several basil leaves, and 1 tsp of coconut sugar. Rim a large tumbler, strain the cocktail over ice, and garnish with basil and lime. Top with WTRMLN WTR.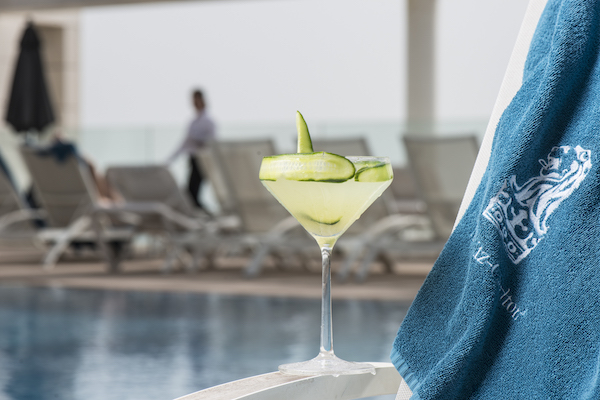 Cucumber Martini: Ritz Carlton Herzliya
• 5 cm of cucumber
• 40 ml of gin
• 20 ml of pear-infused vodka
• 20 ml of fresh lime juice
• 10 ml of sugar syrup
• 3 strips of cucumber garnish
Chill a glass and prepare the garnish. Smash the five cm of cucumber into the base of a shaker. Add the rest of the ingredients. Stick the cucumber strips to the rim of the chilled glass. Fill the shaker with ice and shake well. Fine strain into the glass.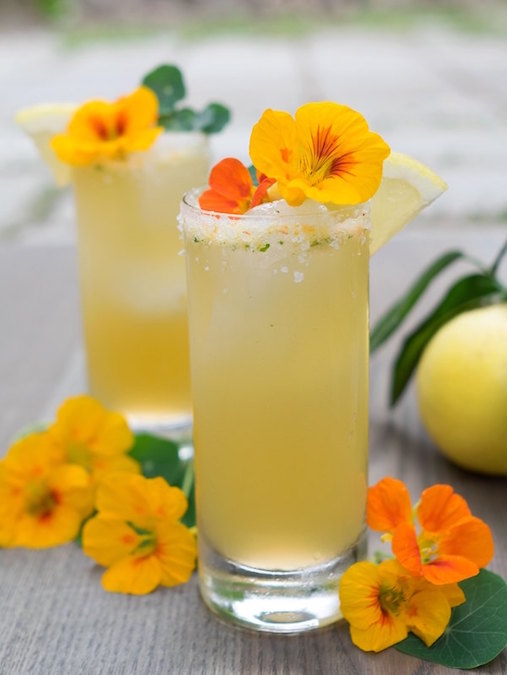 Paloma: Ariel Kaye, founder of Parachute, inspired by Wild Drinks and Cocktails
• Kosher salt
• 1 tsp of sugar
• 1 tbsp of lime juice
• ¼ cup of grapefruit juice
• ¼ cup of blanco tequila
• Ice cubes
• Club soda
• A small handful of nasturtium flowers (Nasturtium is very easy to grow. If you don't garden, I recommend buying from your local farmer's market, ordering from Gourmet Sweet Botanicals, or purchasing from the produce section of your favorite grocery store.)
Put kosher salt on a plate. Wet the rim of a glass with either grapefruit juice, lime juice, or water. Dip the rim of the glass in salt. Combine sugar, lime juice, and grapefruit juice in the glass. Stir until the sugar dissolves. Add tequila and ice. Top with club soda. Garnish with nasturtium flowers.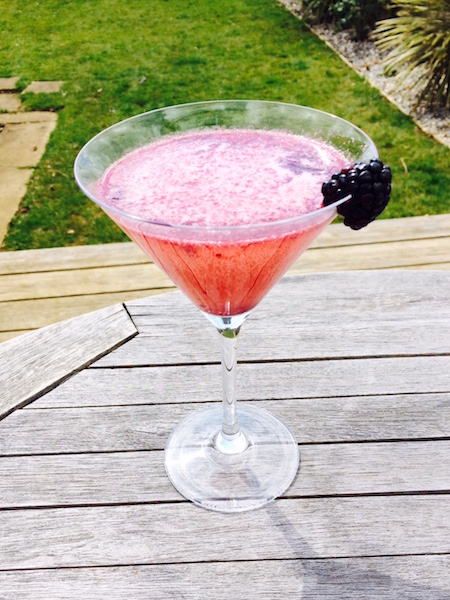 Blackberry and Apple Fizz: Helen Phadnis, freelance dietitian, sports nutritionist, and founder of Nom Nom Nerd
• 4 tsp of blackberry puree (mash blackberries and pass through sieve)
• 75 ml of cloudy apple juice
• 1 shot of vodka
• A squeeze of lime
• 1/2 tsp of vanilla extract
• Top up with Prosecco
Place the blackberry puree into the base of a martini glass. Muddle apple juice, vodka, lime, and vanilla together, and pour on top of the puree. Top up with Prosecco. Garnish with a blackberry.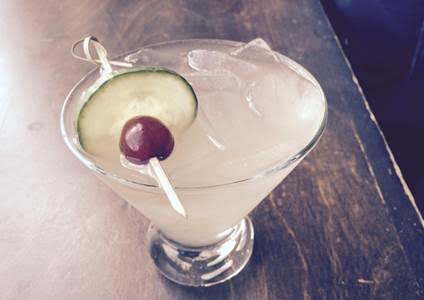 Fruits and Veggies: Battello
• 1 ½ oz of crop cucumber vodka
• ½ oz of St. Germain
• 1 cucumber slice
• 2 red grapes
Muddle grapes and cucumber till a fine paste, add remaining ingredients, and shake for 10-15 seconds. Double strain into a low ball filled with ice. Garnish with one grape and one cucumber slice.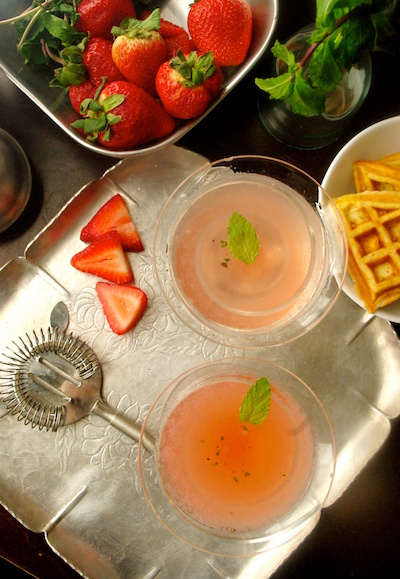 Strawberry Mint Gimlets: Chef Mark Bailey
• 4 fresh strawberries (leafy stems removed and chopped)
• 1/4 cup of mint leaves, chopped
• 6 oz of gin
• 1/2 of a lime
• Ice cubes
Serves two: Place two martini glasses in the freezer to chill for seven-10 minutes. Muddle the mint and strawberries in a shaker. Add ice and gin. Shake well. Pour evenly between glasses. Squeeze a splash of lime juice in each glass. Garnish with mint leaves. Serve chilled.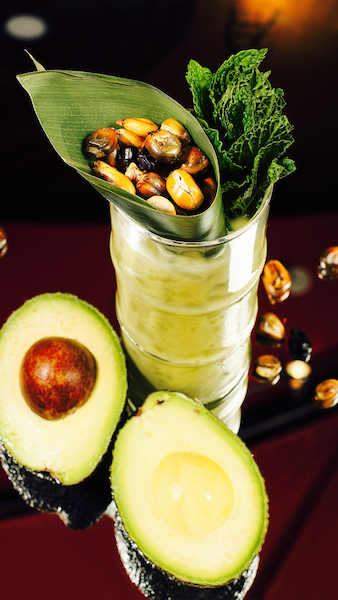 Avocado Batida: Richard Woods, SUSHISAMBA NYC
• 1.5 oz of Cachaça
• 1.5 oz of avocado puree (peel and blend eight avocados with 250 ml of water)
• 0.75 oz of Monin orgeat syrup
• 2 bar spoons of Mozart Dry Chocolate
Build in a glass and churn all ingredients with ice.
Photo Credit: Emily Han