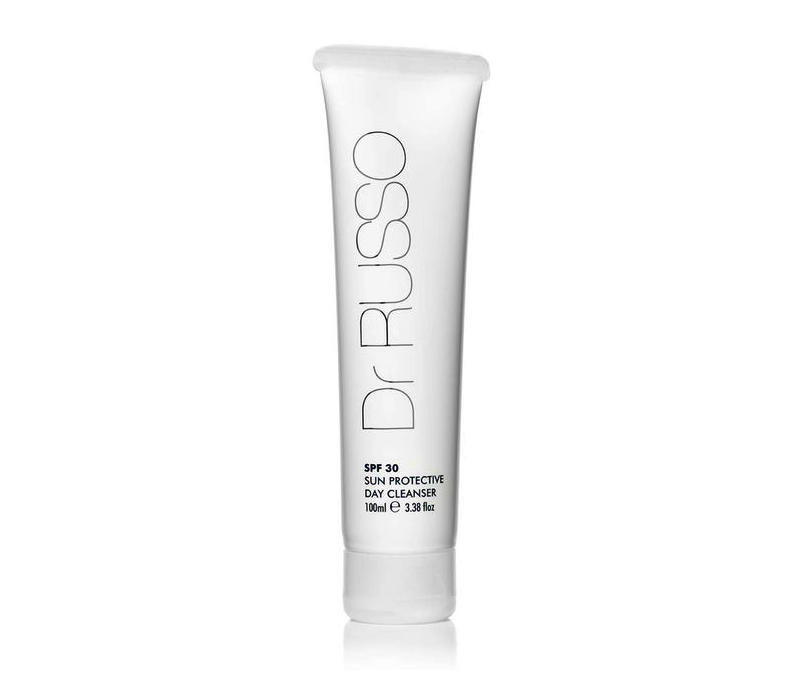 One of my best friends just found a cancerous mole on her back. She lives in NYC and works ridiculous hours in an office, and yet still managed to spend enough time unprotected in the sun for this to happen. Luckily, all it took was a short procedure to remove it, but it still cost her $12,000, even with insurance…in case – aside from wrinkles – you needed more motivation to lather on sunscreen every day (even in the winter, it is a MUST!).
As someone who is always dealing with breakouts and skin sensitivity, I understand the fear of lathering on too many products and clogging pores, which is why it's awesome that the FDA has finally approved the first sun protective day cleanser (on Space NK Apothecary for $75). An FDA-approved sun protective shower gel with wash-on SPF 30 will also be launching this summer from Dr Russo, and both products are exclusive to Space NK. The basis for these is a "wash-on technology," which leaves a layer of sunscreen on your skin after you've rinsed them away. I tried the milky cleanser somewhat warily as I was worried that the product might give me a false sense of security despite the so-called new technology. After all, as I was washing away the cleanser, wasn't I also washing away or rubbing off the UVA/UVB protection? Apparently not…I went into the 79-degree Tel Aviv sun and survived unburned! As for the smell, it's nice and subtle with just a hint of the "sunscreen" scent, which I personally actually like.
The one thing that is important to note is that you can't use scrubs or toners after you've applied the sunscreen cleanser. You can, however, use serum and moisturizers. Also, given the "newness" of this technology, if you're going to the pool or beach and especially if you're laying out for an extended period or swimming, this cleanser should be a supplement, not a replacement, for your regular sunscreen. When I tested this product, which I did a few times, it was always while zipping around the city running errands. The risk of skin cancer is too great not to take all the necessary precautions, but for day-to-day, especially come winter, this seems like a great option for those averse to traditional sunscreen.
Would you give this new technology a try?