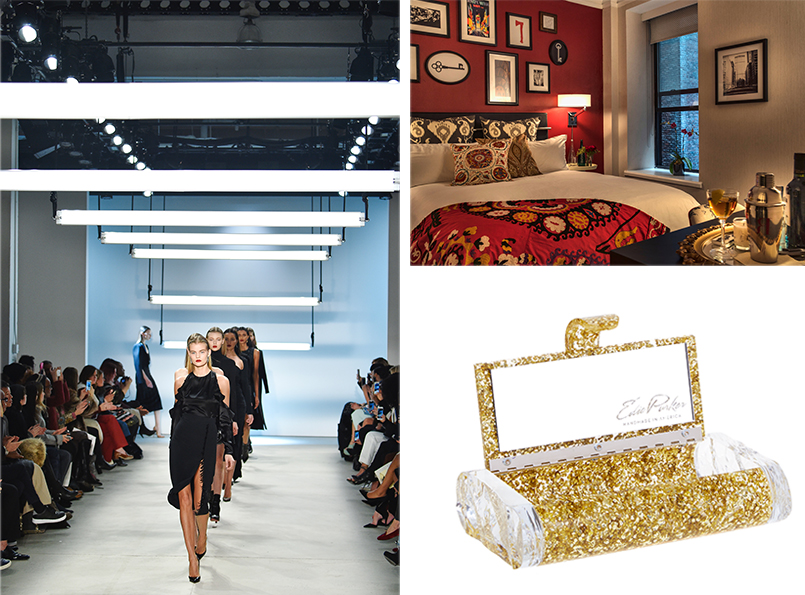 Imagine going to #NYFW in style with full VIP treatment including getting personally styled by the designers themselves the day before the big show, staying at the hot new posh Redbury Hotel and even getting accessorized by Edie Parker with the iconic Lara gold confetti clutch. This is a dream come true for the Fashion obsessed. It takes years to get this kind of clout but for one lucky Snob Essentials fan, you will be able to do all this September 8 and 9, 2016.
You will receive access for you and a guest to attend the Cushnie et Ochs Spring 2017 Runway show on September 9. The day before the show you will meet the designers and choose your look at the Cushnie et Ochs studio, which of course you can keep and take home with you. The value for 2 seats to the show is worth $2500 and your personalized look is $1500. To finish off your total look, you will receive the Edie Parker Classic Gold Confetti Lara Clutch worth $995. While in New York, you will be staying at the Redbury Hotel for 2 nights, sponsored by Preferred Hotels worth $1200. The total value of this prize is $6195. Yes, that's how much it normally will cost, if not more, to attend Fashion Week!! It is such an exciting opportunity for an experience of a lifetime! I will also be in NY so if you would like to grab drinks, it's on me!
Best of luck to the one lucky winner (and his/her friend)! To enter, sign up to the Snob Essentials mailing list. Even if you receive our weekly newsletter, you will still need to sign up again to enter this contest. Last day to enter is July 31, 2016 at 11:59pm EST. But do not wait, do it now!!