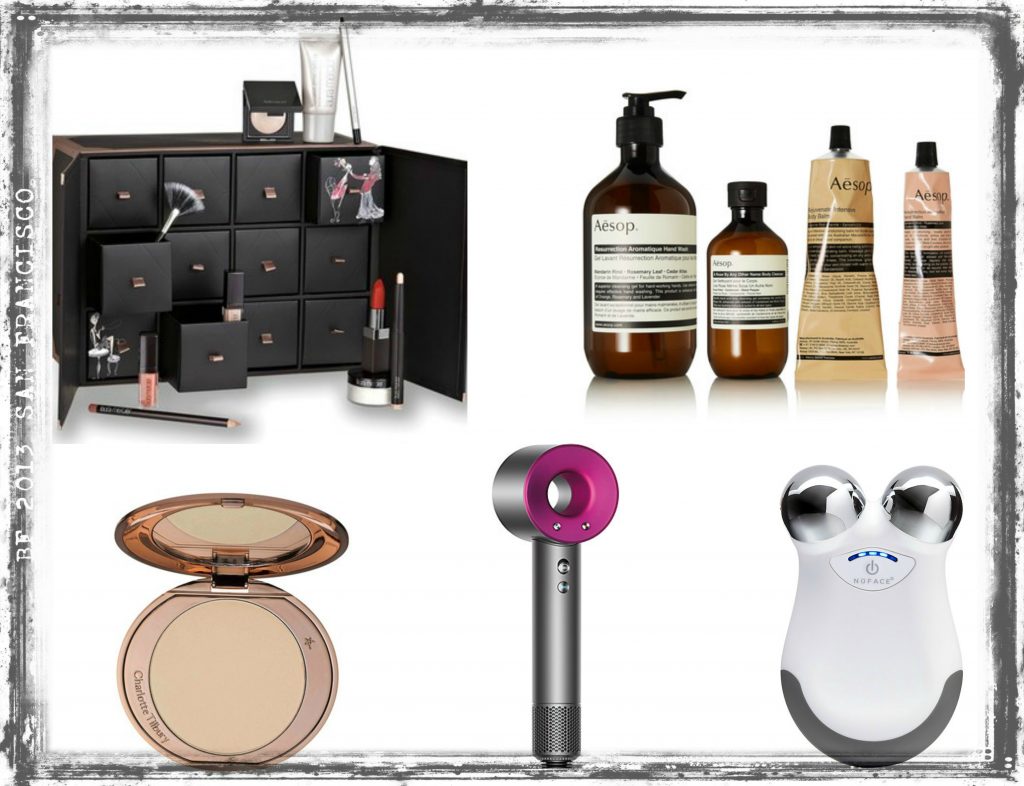 Last minute shoppers, just calm down. I do this every year – wait until the very last minute and then panic and scramble. But don't end up buying lame gifts out of sheer desperation. Everyone loves a good beauty secret to lavish themselves with. These are fool proof gift ideas that I promise will be appreciated and beloved.
Dyson Supersonic Hair Dryer for $400. This is a bit steep for a hair dryer but if you know Dyson technology you know there is only revolutionary thinking going on over there. This dryer uses the same drying system as their fan so there are no blades that can suck in your hair, we've all experienced that. But the hefty price tag isn't just for safety's sake. This dryer is lightweight, quiet, has faster drying time and the heat is measured so you don't over heat and damage the hair. Trust me, if someone gave this to me, I will think of them every 3 days when I wash my hair. Totally worth it, right?
NuFace Haute Contour Trinity Set for $429. I was given one of these during NYFW to try out. I didn't think anything at first but then I started to attend various beauty conferences and realized, this is the at home version of costly micro stimulation treatments you get at spas and surgical centers. I started using it diligently every night while watching TV. I have since passed up my regular botox regimen. The frown lines on my forehead and barely detectable. This set comes with everything you need.
Aesop Avid Explorer Set for $112. Everyone loves luxurious bath products but the love for Aesop is universal. You might not want to spend this for yourself, which is why it makes the best gift. I always gift this when staying at my friends' NY pier de terre, ski homes and lake houses. For $112 it's still cheaper than paying for a hotel!! Kidding, not kidding.
Charlotte Tilbury Air Brush Flawless Perfecting Powder for $45. I absolutely cannot live without this powder, it is like airbrushing the face in real life. No matter how hung over or tired, this will instantly give you a healthy glow that never goes unnoticed. The recipient may not thank you immediately but trust me, you will get that exuberant text with many heart emojis once she uses it.
Laura Mercier "The Iconics" $170 $128. Laura Mercier can do no wrong but with the top 12 of her favorite products, you know each one will be loved. She created this Iconics box set to celebrate her 20th anniversary at a reduced price to spread joy and love but now it's on sale at Nordstroms. Talk about bang for your buck.