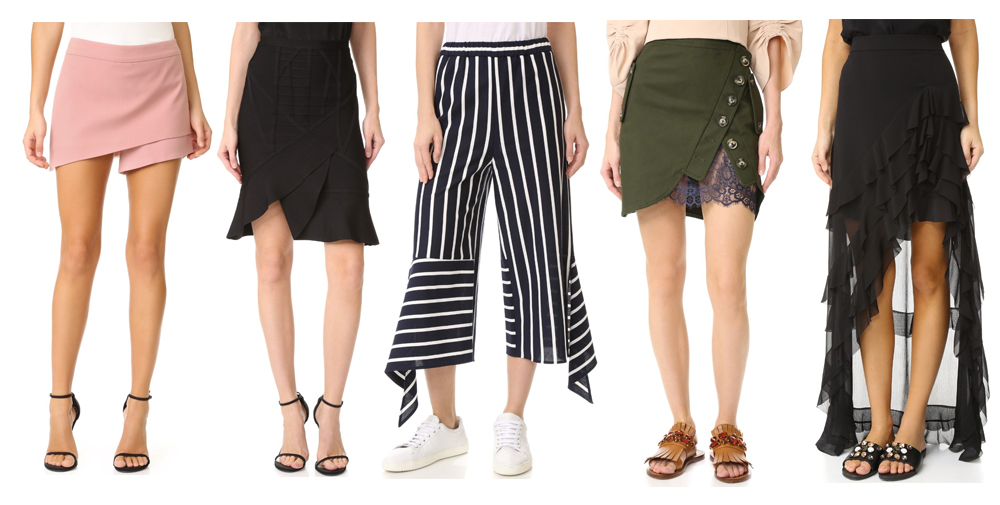 Don't worry, no political statements being made here. I'm just saying, straight hems are so passé, once in a while you just gotta mix it up a bit and be crooked. Not a crook, crooked. Big difference! The distraction of an uneven hem actually has a very flattering effect – if there is ever an opportunity to have fun AND look thin? I would pay good money for that.
Disrupting the concept of the skort altogether, the Michelle Mason is a skirt layered over half a short, genius! We never like the traditional skort anyway with the chance of camel toe, which obviously should and need to be avoided at all cost. Michelle Mason Assymmetrical Skort for $449.
The Herve Leger here may not be changing the world but anytime you have a chance to wear a curve hugging Herve Leger skirt, you do it because it is basically a high powered Spanx. I have a bunch of his basic pencil skirts but they are very boring and stay in the closet way too much. Adalie Ruffle Skirt for $790.
First of all, don't style it the way Shopbop did with a giant flowy top and risk looking like a clown. Why fight it when you can counter it with contrast instead? Sometimes debate strategies and styling share the same principles. Keep it simple, let the bold statement speak for itself. Goen J Striped Pants for $430.
I love this Self Portrait skirt most, that slit is everything yet it covers nothing. You really shouldn't sit down, like ever. Bar stool is the most comfortable you will get. The fatigue tone utility skirt with the lace is a political statement on its own. Aren't we all just a jumble of indestructible and delicates? Self Portrait Utility Miniskirt for $375.
The drama!! The real brilliance with this Alive + Olivia skirt is, you can style it to wear anywhere at any time of day. Big entrances aren't specifically for sundown activities! What else allows you the efficiency to go directly from a PTA meeting to a black tie gala? Alice + Olivia Lavera Asymmetrical Ruffle Skirt for $350.