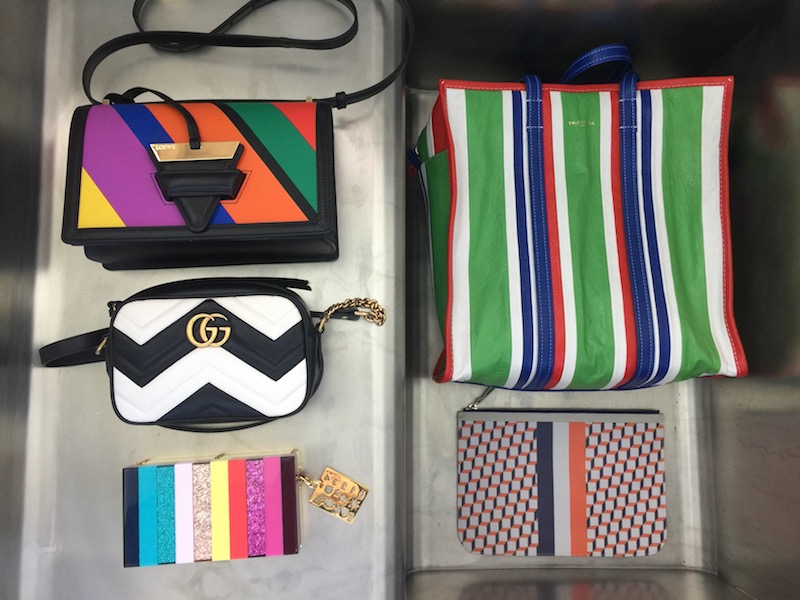 Whether you're indecisive, crazy for color or settled for an all black wardrobe – rainbow stripe bags are not only trendy but will change your life. Think about it, you don't know what color to go with, as long as you're wearing one of the colors in the stripes, trust me it will work. Or you've already gone over the edge being colorful, why pull back when it comes to your bag? But the best problem rainbow bags fix is to blow out the look of an all black outfit. I get it, I have bloated days, fat days (everyday) or moody days that require a lot of black – but my bags can always save the day!
This is a giant bag, as in, you can basically fit your kids inside. But for the upcoming summer it could do double time when traveling. It is a very lightweight canvas so even if you don't need the ample storage, you're not having to haul extra heft. But be on the lookout for oversize bags, it has been on the scene at Fashion Week everywhere. Balenciaga Extra Large Bazar Tote $2550 on MatchesFashion.
Pouches are still a thing, in case you're wondering. They are just so handy – no fuss no muss! I love it when you have on an outfit that just can't be tainted with shoulder straps but a minaudiere just feels too stuffy. The carefree fresh of breath air with a pouch cannot be overstated! Again, easy for travel, if you have this and the Balenciaga, you've got both spectrums covered. Pierre Hardy Cube Striped Pouch $265 on MatchesFashion.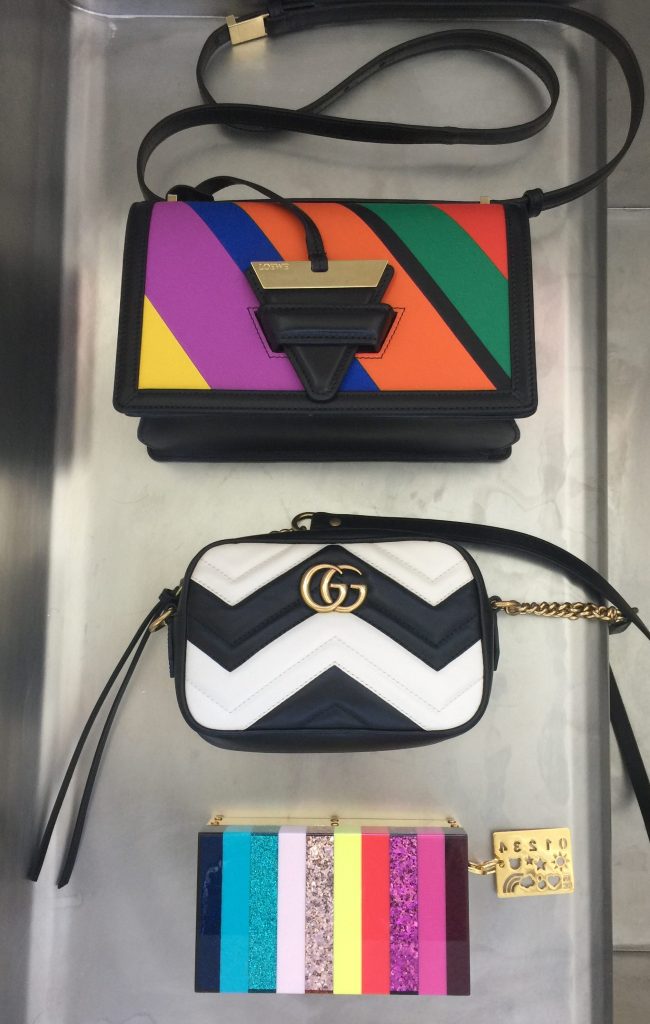 I know I just dogged the minaudiere but the colorful stripes with more stripes in glitter is a whole different animal because it looks like a unicorn pooped it out! The one thing I can't stand about these hard cases is, they are ALWAYS so hard to open but this is magnet so you just pry it open. When it comes to fun clutches, this is as far as you can go without getting in to the crazy zone (ahem, Judith Leiber). Sophie Hulme Comptom Rainbow Clutch $1033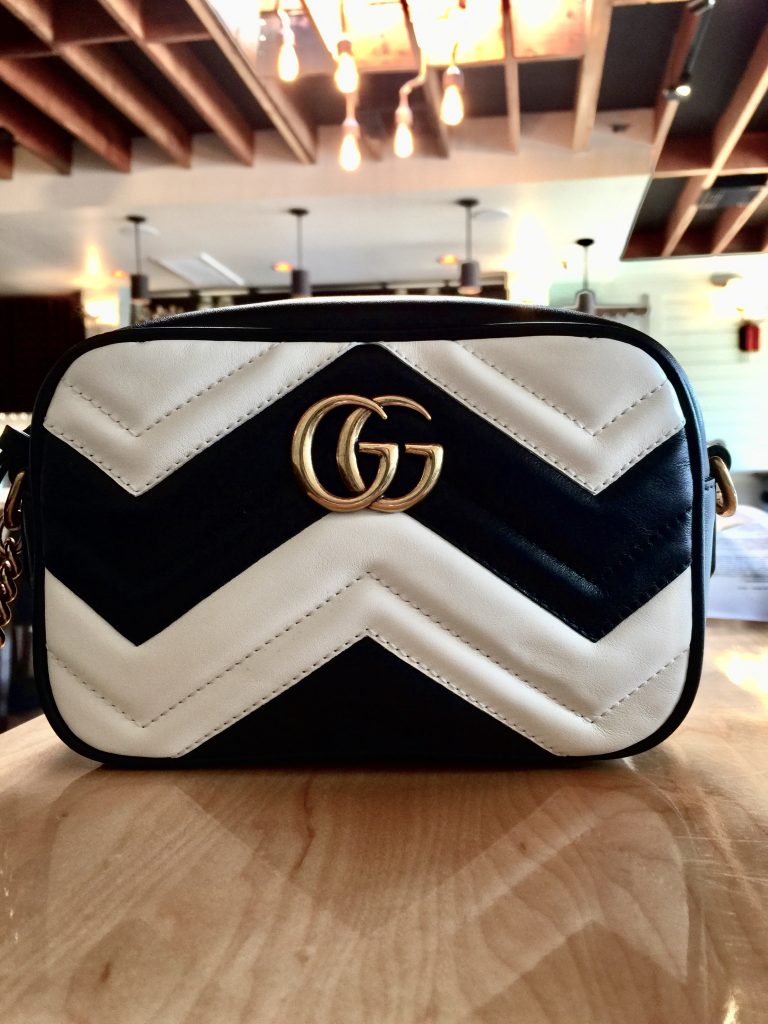 I love this bag so much. I don't care that my story is all about colorfulness, the black and white quilted zig zags is enough excitement for my brain to register this as vibrant. The size is perfect for a crossbody, I really do not need a large object dangling around my mid-section, if you know what I mean. It is just big enough to fit the iPhone 6+ and a slim wallet, but that's all you really need. This is so great for concerts, sporting events, and god forbid if you ever need to go to an amusement park. I just wear it everyday. Gucci GG Marmont Quilted Bag $1190 on MatchesFashion.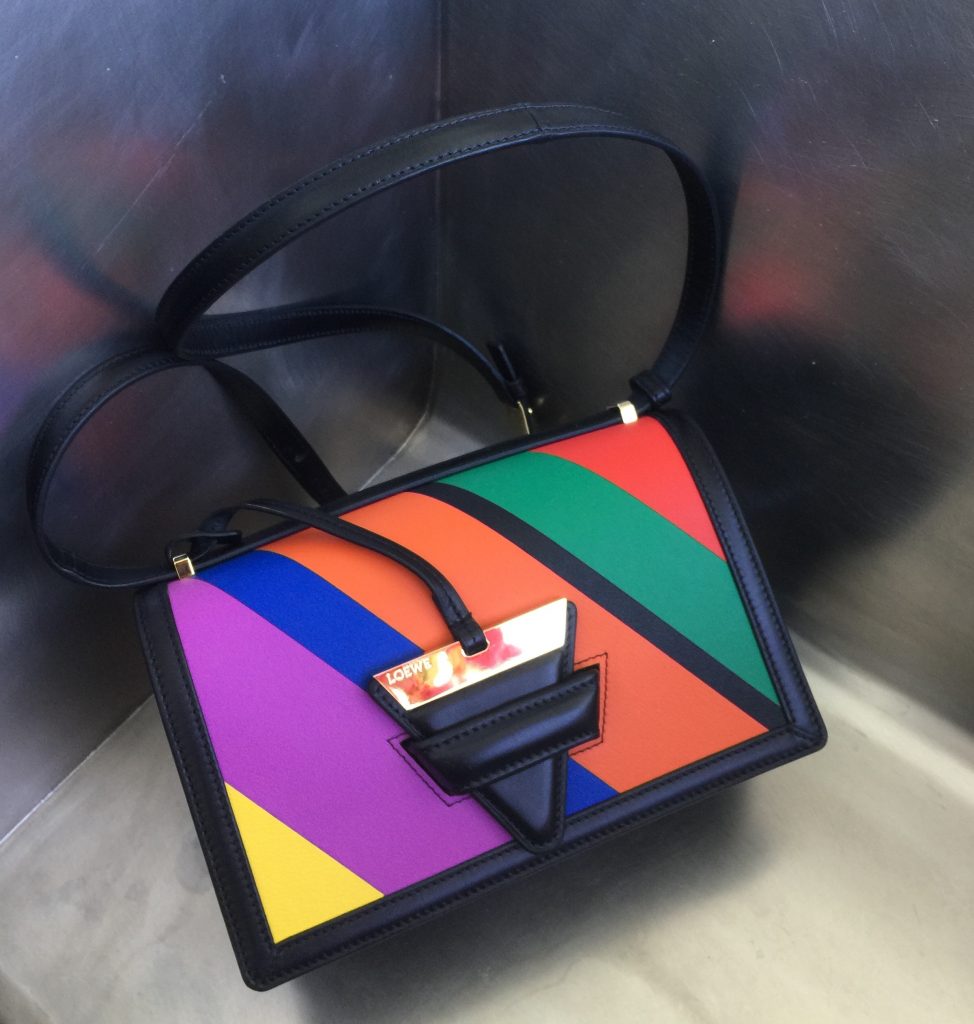 I am all about un-complicating my life these days but obviously life throw things at you – like a bag so gorgeous and lusty that you don't care opening and closing it will be the hardest thing you'll do all day. See that triangle piece? It slides in to the tab that must be threaded from behind. The bag will not stay closed unless this operation is performed. But LOOK AT IT! I'll happily carry this around just to look at it and keep a card wallet in my pocket so I never actually have to get inside the bag. The back of the bag has a pocket for your phone. The shoulder straps are removable converting to a clutch but it'll be a pretty hefty clutch. Loewe Barcelona Striped Shoulder Bag $2226 on MatchesFashion.com.