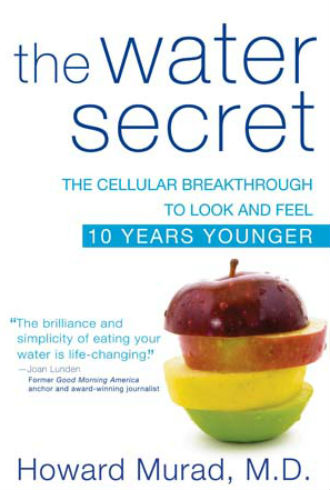 No one ever said maintaining the figure you want is easy. Not only does it take discipline and well maintained habits to eat healthfully but, for me, it entails peeing about three times at night! Why? Because one of the keys to being healthy is staying well hydrated and that doesn't only mean with water. It's very important to also eat our water via water-rich foods. Dr. Murad has a great book on this topic.
"When we eat more water-rich foods, we absorb water more slowly because it is trapped in the structure of these foods. That slow absorption means that water in food stays in our bodies longer, with a multitude of additional benefits," explains Wp Health Care News. He goes on to explain that a cucumber is a great example of this. "Because cucumbers are 96% water, eating a three-ounce cucumber is almost the same as drinking three ounces of water, but better. Besides being full of hydrating H2O, raw fruits and vegetables and other key water-rich foods contain nutrients, vitamins, minerals and fiber that can improve your health, develop your immune system, strengthen your muscles and boost your athletic performance." Not to mention that dehydration can cause a host of health problems and that often times when people think they're hungry, they're really just thirsty. Note however, while eating your water versus drinking it does slow absorption, at least for me, it still entails many trips to the bathroom. But I'll take extra trips to the bathroom for better health!
So what can you load up on to help hydrate your system and flush out toxins? Aside from the obvious – cucumbers and watermelon – here's a look at some of the most effective diuretic foods for boosting heath and weight loss.
Celery: While it's not true that celery has "negative-calories," it is a low-calorie food with high water density, and plenty of fiber.
Lemon: There's good reason so many wellness experts start their day with a squeeze of lemon in hot water. It's great for setting your digestion off on the right track.
Peaches: Not only are they about to be in season – eating in season is one of the best ways to stick to a healthy diet since the foods are so much more flavorful – peaches have been shown to help dissolve the uric acid that may cause kidney stones.
Ginger: I can eat a ton of it, but if you're not a pickled ginger lover try using it as a zest.
Cilantro: This natural diuretic will also work to help lower your blood pressure.
Garlic: Healthy and delicious, garlic works to cleanse your system and boost immunity.
Parsley: Parsley is a water-rich addition to your salad that will help flush out excess liquids.
Hawthorn: This herb is said to be one of the most potent natural diuretics used in natural medicine.
Tomatoes: They're about 90% water. Instead of opting for store bought tomato sauces make your own! It's so easy to do and you'll save your body from all the added sugar and sodium in canned tomato sauce (one of the most overlooked "diet killers").
Carrots: The abundance of vitamins, minerals and antioxidants make carrots a very effective diuretic.